It's a battle of the sexes at RLG Independence Comedy Jam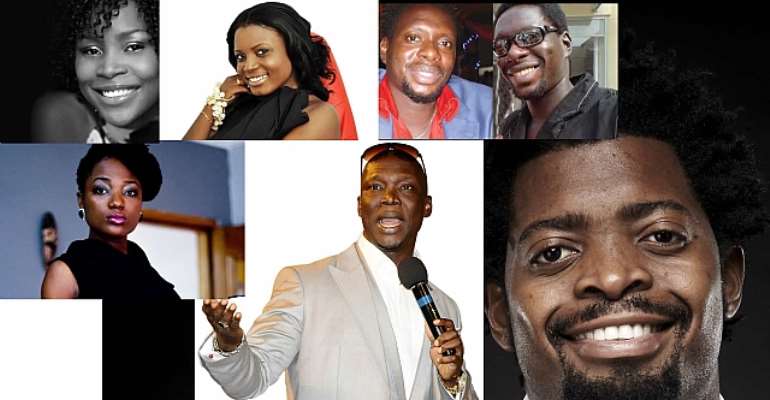 COME Saturday March 3rd 2012 when six of Africa's big names in the entertainment industry converge at the Accra International Conference Center, it will definitely be a memory night to live forever with the thousands of patrons to show up.
It will be a perfect platform for audience to enjoy a fusion of sidesplitting, wittily and well-crafted jokes in addition to the finest of live musical performances. Without a doubt, it is a night to leave audience with a ceaseless experience.
Amidst the excitement and fun, the highlight of the night will be who wins the battle of the sexes on the night; as three gifted female musicians and three naturally hilarious male comedians attempt to give the audience a threat when they mount the same stage?
Leading the group of all male comedians will be the legendary Basket Mouth, who returns to Ghana after 4 years of absence. As the headliner on the night, he is sure to unleash on the patrons rib cracking jokes to leave an impression.
Gordons, another respected African comedian will also be making the night. Widely known to comedy lovers across the globe for his extraordinary delivery, Gordons will definitely be a spectacle to watch with his promise of endless laughter.
The comical act, Clint Da Drunk who obviously needs no introduction will be the MC for the night. With an enviable following around the continent, the comedian in his own right will bring his shine to the night adding up to the enjoyment.
On the other hand with be extraordinary live performances from three of African gifted female musicians who seek to outshine the comedians. To rock the audience on the night with be Efya, Omawumi and Irene Logan mounting the stage.
Efya, the Afro-Pop and sensational singer is set to entertain the audience as she brings to the night her charisma and character to performs her list of hit songs. Together with the two other musicians, they will dazzle the audience.
Omawumi Megbele, is an amazing Nigerian singer with an enviable appeal around the continent. On the night, she will be performing songs including "If You Ask Me", "In The Music" among others.
Irene Logan who has grabbed all attention in recent times with her hit track "Light and Darkness" which features the Ghana Music Awards winning artiste Trigmatic is billed to perform on the night. One is assured of nothing short of spirited performances from the three ladies.
Don't be left out as we find out who grabs the shine and leave audience with everlasting memories. Tickets for the RLG Independence Comedy Jam is selling at Koala, X Men and Charterhouse for GH 50 standard.
The RLG Independence Comedy Jam is a Gh-One Entertainment TV initiative in partnership with leading event company, Charterhouse with sponsorship from RLG Communications; championing the course of ICT development and beyond.