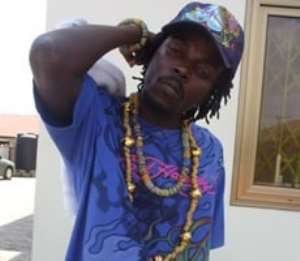 Kwaw Kese
Controversial hiplife musician, Kwaw Kese popularly known as Abodam has been robbed, Sunday dawn by an unknown assailants at his residence at the Manet Gardens at Spintex.
The incident took place at about 4:30 am when the artiste and four other occupants of the three-bedroom apartment were asleep.
According to Kwaw, known in real life as Emmanuel Abrompah Botchwey, the assailants "broke through one of the windows and took two laptops (including a Mac Book Pro) and an iPod."
He told Myjoyonline.com they did not see the assailants but were certain that they could be coming from the neighborhood.
The King of the Streets further narrated that, the thieves used a glued stick to pick the laptops and subsequently pulled them through the window, saying that but for an alarm from one of the occupants of the house the burglars would have made away with all four laptops.
He said the laptops contained several important materials including yet to be released works – songs and videos – which are "worth thousands of dollars. It is worth a lot."
Asked if he had reported the incident to the police, Kwaw was quick to say, "I think the society can help me better," calling on his fans and the general public to be vigilant to help him get his laptop - which is being protected by a password and has his images on it at the back.
He explained that although he believes the police can work on the case for him, "it takes a whole lot of time" to get results adding, "I want my thing now … the world should help me find it."