'I Am No More Ayigbe Edem'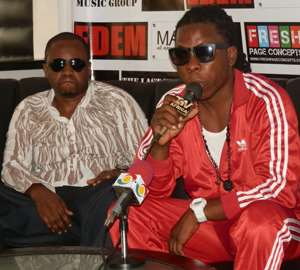 Edem
Years after using the name Ayigbe Edem, the Ghanaian rapper has announced his decision to drop the Ayigbe from his name.
Edem was born Denning Edem Agbeviadey. However, he adopted Ayigbe Edem as his stage name when he broke into the music scene with the release of his maiden album, ' The Volta Regime', in 2008, which has songs like the hit ' U dey craze', 'Bra fremi fremi', ' Nyornuviade', 'Give it up', 'Emmre Sesa' and ' Lorlortor.'
The name Ayigbe is reportedly a local Akan word which refers to the Ewe ethnic group that occupies most part of the Volta region of Ghana.
Currently, Edem said he has dropped the 'Ayigbe' because he has fulfilled his mission with the name.
'This has nothing to do with image crisis. It has everything to do with growth of brand. The intention of 'Volta Regime' as an album was to make a statement for my region to be respected…this statement was to make everybody know that you can use your dialect and sell anywhere across the world and in doing that I wanted to also make sure that the people from my region take pride when they are derogatorily called Ayigbe people or anything. And so I decided to adopt that name in addition to my real name. Two years along the line after executing 'Volta Regime', I know a lot of people who take pride in the name now. They don't take offence when they are called by that name. So I think the purpose of the name has been fulfilled as an artiste and so moving on to another album which has a totally different direction from me as an artiste, I needed to stick to Edem,' he explained at a press conference for his latest album titled ' Mass Production' at Reggie's Office on Wednesday.
His ' Mass Production' is a 12-track album with hot banging songs such as 'The Legacy' featuring Tinny, 'Ghetto Arise', 'Wey Tin', 'Over Again', 'Medekuku', 'Kate' featuring Joey B, ' Believe', 'Go Getter', 'Megbonna' and more. The album, he said, has every flavour of music genre.
It will be launched with an anticipated huge party at the Barcadis night club in Tema on Saturday, December 31, where he will also mount the stage to do what he knows best.
High profile artistes to pass through include Reggie Rockstone, Tinny, Trigmatic, Okyeame Kwame, Asem D-Black, Obrafour, Eazzy, Richie and a host of others.
There will also be subsequent events to welcome the album including giving to charity.