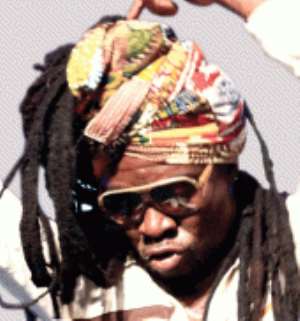 The maestro, Kojo Antwi is staging a free concert on the Oxford Street at Osu on December 24
The music maestro, Kojo Antwi, has a gift for his fans to mark the 20th anniversary of his annual concerts and it is a free show on the Oxford Street at Osu in Accra from 6.00pm on Saturday, December 24.
For 20 years , virtually the whole music-loving community in this nation had looked forward with great expectation to see the adored popular musician perform. Limited seating in the theatres and budgetary constraints had, however, made it impossible for many of his fans to make it to the shows.
Two decades after the first show , the maestro has promised to be on stage for about four hours for free to thank the fans and everyone who had contributed in any way to the success of his annual shows till now.
"I have been part of different kinds of free shows but this is the first time I'm organizing one for myself and I want everyone to come and be part of it," the maestro said in a chat with Showbiz.
He said he would play songs from his very first album through to material from his last one. Fans should therefore expect to hear pieces like Nice and Slow, Me Ne Woara, Anokye, Saman, Dadie Anoma, Atentenhuo, Odo Maayea, Bo Me Nkomo De, Akonoba, Mereto Nko, Me Nya Ntaban, Bre Bre Anowaa and more.
"I'll also do songs from Bob Marley, Stevie Wonder and other popular composers. A lot of people know I used to be in a band called Classic Handels that did all those kinds of songs but I have never really gone back to do them. I guess it's time now to do a bit of them for the sake of the fans."
Confirmed to also perform on Saturday are popular hiplife trio, 4x4; Olando Amoo, a world-class Ghanaian dancer and choreographer based in Hanover, Germany and singer Nana Yaa.
Antwi will be backed at the show by his Rainbow Tribe band which include Kwame Yeboah (keyboards) Emml Ofori (bass guitar) Francis Osei (drums) Sunday Owusu (percussion) and Dominic Quarchie (lead guitar).
Guests to feature with the band are Denmark-based percussionist Ayi Solomon and Dubai-based saxophonist , Bernard. Kwesi Kyei Darkwah will be the Master of Ceremony.
The first Kojo Antwi annual show was not on a December 24. It happened on September 28, 1991 at the Trade Fair Centre in Accra. Antwi's band was then known as The Sundiata. Guest performers on the night were Thomas Frimpong and Roots Anabo.
Subsequent shows came off at the Golden Tulip and the International Conference Centre in Accra before the National Theatre became the preferred venue. The 2008 show was, however, held at the Accra Mall.
"The National Theatre, for instance, takes only about 1,500 people. It is time to break those boundaries and allow the show to become something for everybody to share in. We are in an age that allows shows can be streamlined on the internet for people all over the world to see. We are exploring that possibility with this show," Antwi said.
He added that everything has been done to ensure total security for all patrons. Anyone , however, that shows up with a ticket or brouchue from any of his previous shows would be ushered to a special sitting area.
Kojo Antwi's December 24 concert on the Osu Oxford Street is supported by Vodafone, Coca Cola, TV3, The Finest Productions , Peace FM, Y FM/Ok FM, Skyy Digital TV and the Kojo Antwi Foundation.