Singer Cesaria Evora Is Dead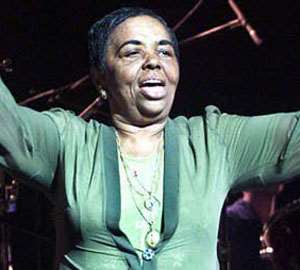 Cesaria Evora
Singer Cesaria Evora, dubbed the 'barefoot diva' for often performing without shoes, has died in her native Cape Verde at the age of 70.
The cause of her death was cardio respiratory insufficiency and hypertension.
She suffered a heart attack last year, and experienced respiratory problems due to a lifelong cigarette habit.
Evora, who has not recorded since 2009, hasn't played live since the beginning of 2010.
Her fourth album, ' Miss Perfumado' , was her breakthrough hit in 1992. It sold more than 300,000 copies worldwide, and resulted in a number of tours. She released 10 albums in all.
Evora had a penchant for alcohol and cigarettes, and in later life her health began to decline. She suffered a stroke while on tour in Australia in 2008 and later underwent open heart surgery.
Two days of national mourning has been declared in the small island nation, with President Jorge Carlos Fonseca calling her "one of the major cultural references of Cape Verde".
Prime Minister Jose Maria Neves paid tribute to her: "invaluable contribution to the greatness of our nation and our pride".