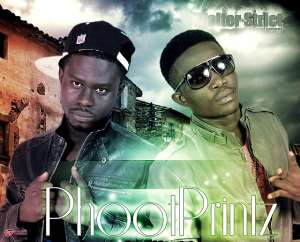 PhootPrintz is one of Ghana's fastest-rising Afro-Hiphop/Hiplife sensation representing 'TEMA' a suburb of the capital city,Accra which they (PhootPrintz) refer to as the music city of Ghana.The afro-hiphop/hiplife duo which consists of two young,vibrant,energetic and extremely talented gentlemen Henry George Blagogee as (Kryztal Gee) and Samuel Shawcross Attah as (Shaw Cee) who are currently signed onto 'Walter Strict Entertainment', dropped their first single titled 'Rock My World' feat. Sarkodie Ghana's fastest rapper and artiste of the year(2009) in june 2011 which is currently doing pretty well in Ghana and beyond and also related singles like the official Ghanaian remix of Wizkid's 'Don't Dull','Ur Bakka' which has its video coming out soon and 'Gimme That Thing' as Supporting singles.
In an up close and personal interview with the artiste,they mentioned that they met as best friends and course mates in the high school and have since then been together doing their own thing as a group and also lived as two brothers who both lived almost all of their lives in Tema.They also stated that their music career begun immediately they graduated from the high school three years ago releasing their first street single titled 'watch out' which was produced by ace hiphop producer Jayso which rocked the streets of Tema but didn't do that well even though it enjoyed a bit of airplay,afterwards releasing couple of mixtapes which gave them a bit of recognition in tema and some parts of Ghana.They went on mentioning that as a musical group,they so much looked up to 'Rock City' a virgin island based group artiste and local acts like R2bee's and Sarkodie whom are actually artiste friends and big brothers they rolled with also representing 'TEMA' the music city as they call it.
Phootprintz described passionately to Motownmcees.com how important hiphop and good music in general is to them and having the biggest dream ever any artiste would have to expose Ghanaian hiphop in an absolutely different dimension to the rest of the music world.Being a lyrically powerful and a versitile duo who does all kinds of music but mainly hiphop have their debut 12 track album which has not yet been titled almost ready.They continued to mention that the album which features some of the big artistes like Sarkodie and more from Ghana and some Nigerian acts as well is an album they believe will put them and ghanaian hiphop on an international height.
Finally,they mentioned that they have always had the dream of rebranding ghanaian hiphop in their own way which all ghanaians and the rest of the world will witness pretty soon all with the aim of helping to take Tema and Ghana music in general to a higher stage so everybody should keep their heads up expecting their entery into the ghanaian music scene like the second coming of Jesus Christ.Remember the name is ''PhootPrintz'' with the motto(Leaving a Legacy) and ''Whadi Doo'' as their anthem.
SONGS DOWNLOAD: http://soundcloud.com/kwakuvandel
FACEBOOK PAGE: http://www.facebook.com/PhootPrintz
TWITTER PAGE: http://www.facebook.com/PhootPrintz
EMAIL: [email protected]