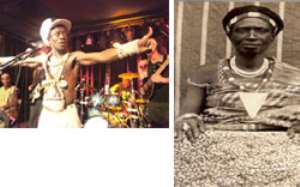 Afro Moses in full flight on stage(left), Mame Adwoa Biriwa, queenmother of Ateiku Wassa in the W/Region, mother of Afro Moses(right)
One of Ghana's living  music icons will today treat patrons to a live  music concert at the Alliance Française in the Airport Residential area, Accra.
The music icon, who lost his beloved mother, Mame Adwoa Biriwa, queenmother of Ateiku Wassa in the Western Region some months ago, has dedicated his 2nd live concert to her. She was laid to rest last week at the Ateiku Royal Cemetery.
According to him, the live stage show, like never before, would be a mix of hot rhythms from across the globe in a fusion of modern beats that will get you jumping… it is not what you would expect.
'When you see Afro Moses doing his thing, you can expect passion, colour, energy, powerful messages, dancing, and a sense that you've just witnessed something deeply special,' said Afro Moses.
Born in Ghana, Afro Moses hit the charts as a teenager, and is labeled the African James Brown. Later, he was taken to Denmark, and had the Danes lapping up his infectious music.
From there, he started touring the world, and has stunned audiences across the globe.
He has shared the stage with some incredible artistes such as Ziggy Marley, Youssou N'dour, Michael Franti, and many more.
A multi-award winner, Afro Moses has won awards such as best song, best album, and best live act, and has been twice voted as Ghana's best international music ambassador, in 2000 and 2002.
He was also involved in the performance and composition of music that featured on the short film Inja that was a nominee in the 2003 Oscar Awards. Afro Moses is a singer, composer, multi-instrumentalist and teacher of music.
A natural performer, whose star quality shines and pulls audiences in like a magnet, and joined on stage by his dynamic group, Moses O'Jah, meaning 'Moses Fire', you can expect a high energy show that will leave you wanting more.
Every musician on stage is unique and comes from a different background… highlighting Afro Moses' message of unity and individual beauty and talent.