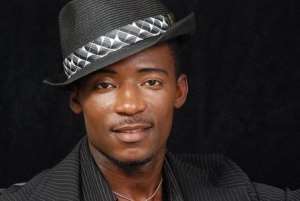 Musician Kobbi Maxwell who in 2003 shared the same stage with music maestro Kojo Antwi inside USA appears in a new movie called "Paparazzi" Eye in the Dark" which will be premiered at the at the Silver Birds Cinemas tomorrow Friday 9th of December 2011 at 6pm sharp.
The musician who starred in the movie as the lead character together with Nollywood and Ghana's own Van Vicker described the movie as a romantic mystery feature film that talks about the media and a celebrity whose exposure is always covered or defended by management but as usual media (Paparrazi) guys will not let the hidden truth sleep until the whole world hears about it.
Kobby Maxwell noted the movie will cross over boundaries, come tomorrow Ghanaians who trip to the silver Bird Cinemas will will have a movie of their time.
This is it he (Maxwell) said: 'the story is told of an aspiring photographer (Van Vicker) who enters the lucrative world of paparazzi photography and unwittingly captures a major scoop that puts him in the center of the city's biggest murder mystery'.
Not to blow the horn of the movie I lead as major character I know Ghanaians will enjoy the movie and also meet the names behind this great work such as Van Vicker as we already know, famed Nigerian director/actor TChidi Chikere, Nigerian actress JJ Bunny, Nigerian/American actor Chet Anekwe, American actress Syr Law of Tyler Perry's"Diary of a Mad Black Woman", and Bayo Akinfemi of the Hollywood Blockbusters "The Tuxedo" and "Bullet Proof Monk". It's also directed by Nigeria's Bayo Akinfemi, cinematography and editing by American filmmaker Black Magic Tim.
Finally Kobby Maxwell revealed that he did not only star in it as musician but he also produced it together with Liberia's Dr. Clarice Ford-Kulah, and executive produced by Great Moments Productions.
Paparazzi is one intriguing 90minutes movie you will love to watch after viewing it for the first time, hence make it a point to be at the Silver Bird Cinemas tomorrow at 6pm sharp.