Joy Fm Rocks Accra With Highlife Dance Party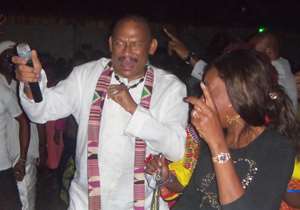 Ben Brako with fans on the dance floor
The 2011 Joy FM Highlife Dance Party which came off at The Place, Trade Fair Centre, LA, will without a doubt go down into music's history books.
On the bill was a rich list of some of Ghana's finest Highlife legends, taking the stage to give patrons a never-to-be-forgotten experience.
The show kick-started with the youngest of the pack, Ofori Amponsah. He dished out tunes such 'Emmanuella', 'Odwo' and 'Rakia' , which brought Kofi Nti onto the stage.
A.B Crentsil once again brought to bear his legacy on stage. Blessed with full showmanship, he delighted patrons with tunes that got them dancing all the way through.
After being a 'holy' performer, performing well-known tunes such as ' Adwoa' and ' Angelina' , the elated audience could not just let this nobleman go without performing his controversial ' Moses' .
Nana Tuffour, who took the baton from A.B, was just amazing. The man credited with singing only for love, showed another magic on the night dishing out his soothing love songs that kept patrons dancing.
Popularly known as 9924, his hit song ' Abeiku' shifted the dancing gear, charming even the seated onto the dance floor.
Ben Brako was next. He was equally enthralling; never mind his dance steps, which were most often off beat but his songs swept through the crowd like a whirlwind, drawing patrons to the dance floor.
Those who couldn't make it to the dance floor, like the Ghana Football Association (GFA) Chairman, Kwesi Nyantekyi, Totobi Kwakye and Ken Ashigbey, General Manager of Graphic Communications Group, were seen either humming or tapping their feet to the rhythmic tunes.
Ben Brako, after a thrilling performance, summed up with his song ' Mawie' .
Vintage Paapa Yankson sealed the night. Paapa is still young, still vibrant as ever.
With his usual broad smiles, Paapa was just thrilling as ever. He kept patrons on their feet, dancing to his amazing tunes such as ' Show Your Love' , ' Mansei Me Dzin' and ' Okukuseku' .
He capped his performance with a congratulatory message to all farmers.