Ghallywood Shares Day With People With HIV/AIDS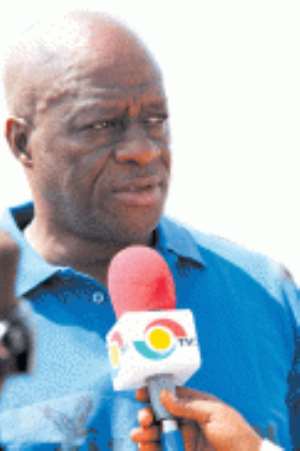 William Akuffo
The greatest hindrance to happiness suffered by people living with HIV/AIDs is stigmatisation, which society consciously or unconsciously inflicts on them. Even though there are diseases more fatal than HIVAIDs, because one of the modes of its transmission is sexual intercourse, society tends to look down on those who suffer from the disease.
Health officials around the world therefore, daily call their societies to change their attitudes to them to make their lives more meaningful and enjoyable.
The Ghallywood Film Academy, in a bid to help in changing the attitude of our society, last Friday November 11, organised a day for people living with HIV/AIDS, to inculcate in its students the need for them to live with such people devoid of the usual stigmatisation.
According to Mr , President of the Academy, the students from the academy came from different parts of the country and since they are training to become film makers, scriptwriters, actors etc., it is important they learn at first hand to co-exist with them as brothers and sisters, for them to better spread the message.
As part of Ghallywoods social responsibility, Mr Akuffo added that in collaboration with the Apostolic Mission International, which oversees the activities of over 80 people living with HIV/AIDS, they organised the day for the two groups and for especially the students to appreciate the fact that people living with HIV/AIDS, are "people like us so that they will produce positive films that would not discriminate against them."
"What others say is Stigmatisation, Killer Disease, but Ghallywood is now saying Reach Out! Live with them, embrace them, they are our borthers and sisters."
Apostle Matel Gracia of the Apostolic Mission International led the students and their brothers and sisters living with HIV/AIDS to interact through the playing of football, holding discussions and dancing to live band music.
Ms Leonora Buckman, an events organizer, one of the guests at the programme said the programme was a very laudable one that should be undertaken by other institutions and corporate intities, to synthetise the public on the need to eradicate the stigmatisation of people living with HIV/AIDS from our society.