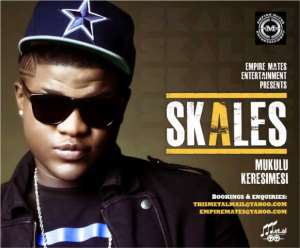 Fast-rising Nigerian act SKALES has released two new singles "Mukulu" and "Keresimesi", in what his label E.M.E has said, "is going to take the continent by storm".
The two songs, produced by beats maker extraordinaire SARZ, are already receiving rave reviews, as well as heavy rotation on rural and urban Nigerian radio. E.M.E are optimistic that just as Nigeria has accepted SKALES, the budding talent will soon become a household name in the sub region and beyond.
SKALES is undoubtedly one of Nigeria's young, fresh and talented musicians, having held his own against the stiff competition that exists in his category.
Leading with the instantly eclectic, infectious and catchy "Mukulu" - which EME is hopeful will soon top mainstream radio charts and fill up dance floors all over the continent, SKALES shows off his vibrant, flamboyant and "lover boy" side with clever and witty lyrics and a glorious hook that "you will not be able to get out of your head as he confesses his affection for his lady over this lush drums-led production, " E.M.E has said.
While "Mukulu" is a crowd-pleaser, "Keresimesi" is an instant head-banger where SKALES boldly and confidently stakes his claim on that African Hip-Hop throne. A rap milieu laced with reverberating drum kicks and blazing trumpets, the song perfectly ushers SKALES right into his rap elements.
SKALES, known as "your favorite rapper's favorite rapper", distinctively showcases his style and flair on all two singles. He is also noted for hit songs such as "Headed For A Grammy", "Be Mine" and "Must Shine".
Videos accompanying the two singles according to Empire Mates Entertainment (E.M.E) would be released soon.
Silky singer Banky W runs Empire Mates Entertainment (E.M.E). The label also houses sensational artiste Wizkid.
FOR ONLINE MEDIA:
LISTEN TO OR DOWNLOAD "MUKULU"
http://bit.ly/skalesmukulu
http://t.ymlp217.net/euwalauhqyalaquafaequq/click.php
LISTEN TO OR DOWNLOAD "KERESIMESI"
http://bit.ly/skaleskeresimesi
http://t.ymlp217.net/euqazauhqyaaaquavaequq/click.php