Mama Zimbi Saves Teen Mom & Her Triplets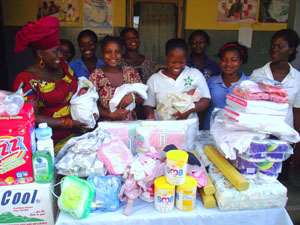 Akumaa, the babies and the family during the donation
Natives of Enyan-Maim in the Central Region were shocked to see ace presenter Akumaa Mama Zimbi in their village less than 24 hours after news of the premature birth of triplets by a 16-year-old girl reached her.
According to Olivia Yanney, the 16-year-old mother of three, she came to Lapaz in Accra to live with one of her eldest cousins so she could find some work to do and get money to continue her education.
She then met a 21-year-old man who sold cocoa drinks on the street. They entered into an illicit relationship and she later got pregnant.
Unfortunately, the man ran away when he heard that she was pregnant so they could not locate him.
Her cousin then sent her back to her parents in the village.
On Wednesday, November 16, 2011, she successfully gave birth to one boy and two beautiful girls.
At birth, the first girl, the second girl and the third boy weighed 1.5kg, 1.0kg and 1.5kg respectively.
The ace actress and talk show host of 'Odo Ahomaso' on Adom FM , Akumaa Mama Zimbi, known privately as Joyce Akumaa Dongotey-Padi, donated assorted baby care products, clothing for babies, baby food, clothes for the teenage mother, boxes of mineral water and an unspecified amount of money for the daily upkeep of the young mother and the triplets.
She also promised to personally take care of the welfare and education of the teenage mother and the triplets through the Mama Zimbi Foundation (MZF), bringing the total number of children she is personally and fully taking care of to 25.
Later, Mama Zimbi entreated parents within the huge crowd which had gathered at the Enyan-Maim Community Clinic to be equally responsible for the actions of their children.
She advised the young ones gathered there to have sex only after they had grown up and married, and concentrate more on their education and apprenticeship.
She also thanked the nurses at the clinic for the dedicated service they were offering to people in the villages.
Present during Mama Zimbi's visit were the mother of the teenage mother, Isaac Crayner, the assemblyman for the Enyan-Maim Electoral Area, Rev. Samuel Tawiah of the Showers of Blessing Ministries (Mankessim Branch) and Gladys Addae and Christiana Nyarkowaa, both nurses.