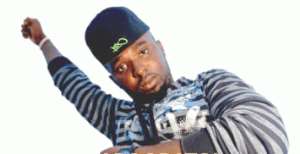 New artist, Christened Milla Lamptey better known as Gasmilla says he wants to take "Azonto" dance to the international level looking at how fast the dance type has won many followers.
Gasmilla, an old student of Wesley Grammar Senior High School and a graduate of the Institute of Professional Studies (IPS) who says he is an expert in Azonto told Showbiz that the Azonto dance originated from a Ga dance called "Aawon" which is mostly danced by Ga traditional priestesses.
In his view, this is the time Ghana should exploit a dance like this. "We always copy all sorts of dances from foreign lands but I think, if we market the "Azonto" dance outside Ghana, it would be history for all of us. In getting the message across, Gasmilla has uploaded videos of himself on Youtube doing the "Azonto" dance.
Gasmilla who is signed to Blue Paper Entertainment has released a couple of singles in his music career with the latest being "Aboodatoi". He said he has performed on some programmes such as the 2011 edition of the Joy FM Old Skuul Re-union, KNUST LMAO show and Ghana Music and Food Festival held at the Trade Fair. The young artist told Showbiz his song "Aboodatoi", will be launched in January next year.