Akumaa Takes 'Odo Ahomaso' To Middle East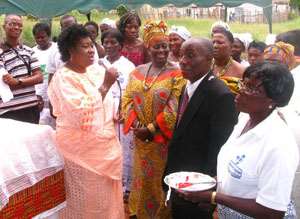 Akumaa with the Ghanaian community in Doha
Ace broadcaster and talk-show host Akumaa Mama Zimbi, last week, staged her programme dubbed 'Odo Ahomaso' in the Ghanaian community in Doha, Qatar in the Middle East.
Mama Zimbi talked to the audience about marriage sustenance and other related issues.
In an interaction with the people, Akumaa noted that in order for them to sustain their marriages, they ought to be meek, humble and respect their spouses.
She said most women did not work towards sustaining their marriages, adding that this had led to numerous marital problems. 'Most women don't care anymore after they get married, and this makes their marriage weak.'
Known in private life as Mrs. Joyce Akumaa Dongotey-Padi, she advised that 'it is the little things that we do for our partners that make marriage successful.'
She entreated all women to work hard in order to support their husbands and themselves so that when their husbands were no more, they would not be found wanting.
'Most women who don't work to support their husbands and themselves always go through crises and tribulations when they turn widows. This is because their husbands' families throw them out of the house, which in turn makes life difficult for them and their children'.
Mama Zimbi stated that being a widow was not a curse. 'It is when we are not prepared that it becomes a curse. We should know it is natural and will definitely happen one day. It is when we realized that, that is when we can be prepared to face it when the time comes,' she said.
Akumaa advised women to abstain from premarital sex. She added that most men treated women with contempt after they had had sex with them, adding that it was an insult to womanhood.
She stated, 'It is the quality of sex that you have as a married couple that is important and not the number of rounds you go during sex.'
She urged couples not to discuss their marital problems with others, adding that it had wrecked many marriages. She noted that if it became necessary to share one's marital problem, one should be mindful of whom he/she disclosed such things to.
Akumaa Mama Zimbi is the CEO of a widow's organization called Widows Alliance Network (WANE) which has over the years focused on sustaining the economic development of widows and educating them as well.
By Cephas Larbi