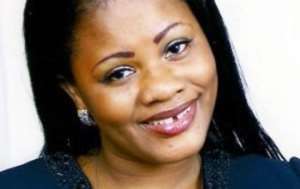 Melodious gospel singer Christiana Love has been dumped by her husband, Pastor Love Hammond, over what he described as irreconcilable differences between them allegedly due to the workings of his mother-in-law.
Pastor Love, General Overseer of the Life Power Miracle Church at Odorkor in Accra, insisted the misunderstanding he had with Christiana was beyond that which could be resolved.
The gospel songster was said to have been put in the family way by another man in Germany.
Meanwhile, family relations of Christiana Love have damned Pastor Love and accused him of being a bad husband who has publicly described his mother-in-law as a witch and a dog.
While divorce lawyers and the families of the two are yet to agree on the parameters for the marriage dissolution, reports said Christiana Love was already enjoying in Germany with her new-found love, a well-to-do gentleman by name Nana Yaw.
Christiana Love was on record as saying that she had nurtured the dream of marrying a pastor since she was just 17 years old. She, however, seemed unperturbed about what was happening to her marriage. Yet-to-be-confirmed reports said she already had a four-month-old baby for Nana Yaw.
'As a pastor, I can only pray for her and wish her well in her new-found love. We are not enemies and I can only pray for her…We have benefited from our relationship and she has given me three sons. That is what I can say I gained from the relationship because I am the only son in my family so to have three sons is a blessing. I would keep praying for her as I look after the three boys,' Pastor Love noted in Twi during an interview he granted Hot FM in Accra.
Yaw Ankoma, a younger brother of Christiana, yesterday told Joy FM that Pastor Love had no basis to blame his mother-in-law for the marriage breakdown.
'My sister is feeling very okay because the Bible says that in all things we should give thanks to the Almighty God because I believe  God knows best and everything He does, I believe is the right thing.
'I would like to pose a question to Ghanaians, especially mothers who have their daughters in relationships. Which sons-in-law have the audacity to call their mothers-in-law witches and then call then dogs, fools? Ever since they got married, my mother has gone to intervene in their marriage on two occasions and on one of these occasions, he called my mother a witch because my mother had gone to intervene on her daughter's behalf,' Yaw Ankoma said.
Christiana Love has won several awards as a gospel singer and has four albums to her credit. Her 'Moving Forward' track is currently topping gospel charts but she has other hit songs including ' Meti Ase' , 'Ayari Sa' and 'Onyame Ba' .
Pastor Love is believed to be a gifted songwriter who has written songs for his estranged wife, Christiana Love and other gospel musicians.
Pastor Love topped newspaper headlines when he had a quarrel with the late gospel musician, Bishop Michael Osei Bonsu of Back to God Mission International, over songs the former had written for the latter.
 By Halifax Ansah-Addo