AMBRO AND DESTINATION CONSULT FIGHT FOR SAFETY ON OUR ROADS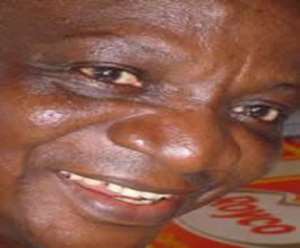 Nana Kwame Ampadu-I (Chairman of Ambro)
The chairman of the Association of Music Right Owners (AMBRO), Nnwontofohene Nana Kwame Ampadu-I and Destination Consult fight for safety on our roads.
Speaking at the press conference theme "SAFETY LIVES WITH GHANAIAN HIGHLIFE MUSIC" at the SSNIT quest house in Accra, he said "Road safety is a behooves on every person living in Ghana to show concern and interest to participate in it positively because it is inevitable a life and death matter that concerns all and sundry".
I believe a lot of people might have not engaged him or her self in a lorry accident before, but as musicians who have toured the length and breath of this country in our profession have come across horrifying lorry accidents of which lives was claimed. This is the reason why the Association of Music Right Owners (AMBRO) has teamed-up with the National Road Safety Commission to embark on a national campaign with the aim of sensitizing the citizenry about the impact road accidents have destroy our nation.
It may interest you all to know that, first of it kind, a gathering of Top-National stars of international status willfully with peak gusto, in the persons of, Thomas Frimpong, Obouba J.A Adofo, Akosua Agyapong, afro-pop rap music icon Gyedu-Blay Ambolley, Amandzeba Nat Brew, Kaakyire Kwame Appaih, the apostle of highlife K.K Kabobo, Dr. Paabobo, Abaawa Connie, Teacher Boateng, Yaw Labito, C.K Morrison, Obo Gyima and I (Nnwontofohene Nana Kwame Ampadu-I) in pursuit of this agenda is coming out with a National Road Safety Campaign song to educate the general public on the carnages on our roads.
Nana Ampadu, therefore appreciate the fact that all the musicians in our land voluntarily showed interest in this do exercise.
"For musicians came together for the composition of Ambro"-he added.
Winding-up, I commend and encourage the print and News media to feverishly keep on with their campaign in this direction.
The chairman of the event, Lawyer Kwame Attuahene the head of communication at National Road Safety Commission in his presentation said" imagines the entire population of your church or school died out of road accident, how we can develop our country".
It is preventable that poverty life and growth matter since 1.6 percent in G.D.P total amount lost through road accident.
Making reference, he said "Sweden long-term safety on their road is that there should be no injuries 1997-based on the vision zero".
At the event were the president of musiga Bice Osei-Kuffour and Chief Tony Okoroji the chairman of the copy right society of Nigerian (Coson).
Safety Lives with Ghanaian highlife Music bash will come off at national theater on the 23rd of October this year to support the accident unit at the Korle-Bu Teaching Hospital and an initial capital to start a nationwide campaign on our major roads using bill boards with the highlife artist being featured.