Mavado to settle in Ghana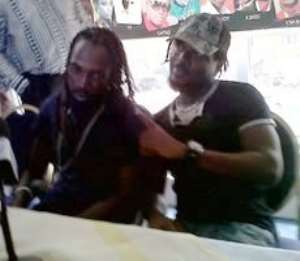 Mavado and Samini at the press conference
Jamaican dancehall artiste, Mavado who arrived in Accra Friday afternoon ahead of Saturday's Mavado Live in Ghana concert says he may settle in Ghana in the near future.
The artiste who was speaking at a press conference organised by organisers of the concert, Fantacy Entertainment and Samini Music, at the Royal Richester Hotel said "Ghana reminds me of home," adding he may settle here in the near future as soon as he gets a piece of land.
Born David Constantine Brooks, Mavado flanked by Ghanaian dancehall great, Samini, said Ghana comes to him as home because he is an African - and he is an African because of his forefathers.
He will not be the first major Jamaican artiste to see Ghana as home. Wife of reggae legend Bob Nesta Marley, Rita Marley is currently residing at Konkonuru near Aburi in the Eastern Region – adopting Ghana as home.
The man who tagged himself as a musical revolutionist could not hide the excitement his trip to Ghana brings him, saying he is overwhelmed by the trip and is looking forward to a memorable night at the Accra Sports Stadium, venue for the concert.
Expectant fans of Saturday's showdown anticipate a fierce battle between Samini and the Jamaican artiste as to who is truly the dancehall maestro.
Asked whether he has a competitor, the Messiah hit maker, Mavado, said he has no competitor but whenever a competitor pops up and he has to defend his title, he will surely defend it.
Host of the concert, Samini recalled his trip to Jamaica two years ago where he met Mavado and discussed the possibility of having such a concert with him. He said he thanked God for making that dream a reality.
The Sweet Mistake singer said in spite of initial hitches that led to the postponement of the show from October 1 to October 8, the show is finally coming off promising a night of fireworks.
Apart from Mavado and Samini, other artistes billed to perform on the night include VIP, 4X4, Buk Bak, Okomfour Kwaadee, Iwan, Bandana, Stonebowy and a yet-to-be-named surprise act from Nigeria.
The media briefing was also attended by representatives of Fantacy Entertainment and Samini Music.