'Walk with America's next Top Models' auditions to be held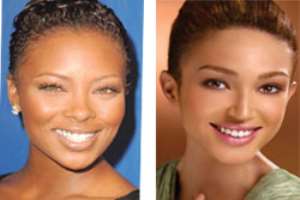 Eva (left) , Naima(right)
The two international models, Naima and Eva, are billed to walk on the runway for the upcoming Ghana Fashion Night which is an initiative by Kencar Ghana.
Spring Entertainment as Publicists sees the opportunity to give Ghanaian models the chance to be on the same stage with the international stars and help build their confidence by creating an audition platform before the main show in October 21-22nd of this year for only GH¢20.
Spring Entertainment CEO Christabel Addotey revealed her company, which is the official media buyers, thought it wise to use this platform to urge all modeling agencies in the capital to grab this opportunity available now, by using it is as a means of pushing the dream of their agencies far, hence anyone who wants a form can call 0240104852 or 0265005789 for door plus personal delivery.
'The benefits attached to the Ghana Fashion Night is huge, apart from the models being on the same stage with the two international models, her clients - Kencar Ghana – will give selected models a fashion deal with an international magazine, plus a cosmetic commercial, which will be shot in Ghana this December,' Christabel noted.
The Walk with America's next Top Model is an initiative by Kencar Ghana, with support from their partners in USA and publicist works handled by Spring Entertainment, as the auditions are for all genders (both male and female) models in the country, and participants must dress to impress, as they will walk in them.
For more information about the Walk with America's Next Top model auditions, or the main show- Ghana Fashion Night – visit: www.springentertainmentgh.blogspot.com or call the above numbers.
Models, this is your one chance to international stardom and platform to network, by meeting more makers plus shakers of the fashion world, pick a form for GH¢20 and be part of history, don't forget it will be the first visit of both Naima and Eva to Ghana.