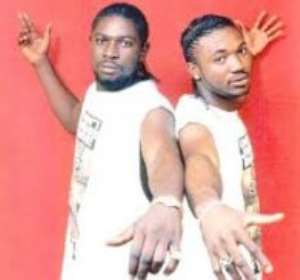 Buk Bak
After going their separate ways for seven good years, Prince Bright (a.k.a Bling Sparkles) and Ronnie Coaches who make up the duo have finally come back together as a group. The visibly excited duo told Showbiz last Tuesday that it is good to be back and they intend to do some wonderful things together as a group as well collaborate with other artistes.
While they were separated, Ronnie released an album, Screen Saver which didn't do well as expected while Bright also released his Light over Darkness album which had the Condom song, 'it did pretty good,' Bright said with a smile. During that period, Ronnie was going to and fro the US while Bright was based there, New York to be precise.
Says Bright, 'I learnt how to produce music in New York and I did the sound track for the movie Threading Needles by Buck Swell Films. I produced it, sang and did everything as far as production was concerned on that movie.
Currently, the duo say they are working on an album and they hope to come out with a good one considering the engineers they are working with. 'We are trying to build a whole new empire where others can come on board like we did with 4X4. In doing that, we intend to help unearth new talents,' Bright said. 'It won't just be about fresh talents, we will also do a lot of collaborations with already established artistes,' Ronnie chipped in.
have five albums to their credit namely Kome Ke Kena, Nkomhye, Awinsem, Gold Coast 1662 and Gonja Barracks. have a large following and they do know how to move their audiences anywhere they perform so their coming back together is indeed good news for their teeming fans. 'Much as we want to grab some talents, we are open for business, we are available for any engagement,' said Bright.
The duo expressed gratitude to Mandy J Entertainment, Big Apple Entertainment New York, Bimox Entertainment, Prince Dave Records and Agiecoat. Others are Jay Q, Baron Courage, Eric Ferror, Korkor Amarteifio, Sandria Bruce, and King and Sam Akuffo. 'These are people who have been very supportive of us and continue to support us for which reason we are very grateful to them as well as others we have not mentioned here.
'Our biggest thanks goes to the Almighty God for seeing us through all these years as we have grown from boys to men and for bringing us together again to spread our wings to help others,' Bright concluded.