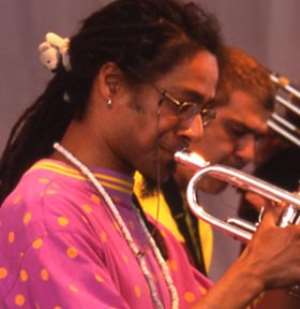 Nicholas Genest
The third Accra Jazz and World Music Festival will on Wednesday, October 5 open with a magical concert by American pianist Kenny Drew and the Swiss vibraphonist Thomas Dobler at the Alliance Française in Accra.
Son of a jazz pianist, Drew is well noted for his hard-swinging bluesy sounds and large two handed rooty chords that sharply contrast with fast runs.
Widely known in Europe, Drew has performed with greats such as Stanley Jordan, Jimmy Heath, Stanley Turrentine, Carnegie Hall Jazz Band and embarked on projects with Dobler.
Friday, October 7 will be the turn of French trumpeter Nicholas Genest and Ghanaian guitar legend Sir Young.
Regarded as one of the significant trumpeters on the French Music scene, Nicholas Genest became known to the jazz world following his participation in Groove Gang initiated by respected musician Julien Lourau.
Kevin and KG from the United States will engage fans with Neo Soul, a musical genre that fuses contemporary R&B and 1970s style soul with elements of hiphop. The trio would entertain the audience with music that is essentially modern day soul music with contemporary attitude and sensibilities.
The Paillote at the Alliance Française will on Wednesday, October 12 host the Big Twins Cultural Band with a curious blend of diverse African percussive instruments laced with heavy brass sessions, while leading the crowd into their world of Afro Pop, Afro Beat and Afro Fusion.
Pan African Orchestra, a group noted for appropriating the elements of traditional African music and creating a new synthesis, will take the festival by storm on Friday, October 14. Led by acclaimed ethnomusicologist/composer Nana Danso Abiam, the group will perform compositions and re-compositions of traditional themes through orchestral interpretations. The show will be preceded with a performance by Ogyah Band featuring flute magician Dela Botri.
A female duo, Les Nubians and Ghanaian-American Afrocentric and hiphop artiste, Blitz the Ambassador, will perform on Saturday, October 15. Based in France, the duo will offer a jazzy sophisticated style of R&B combined with French lyrics, sade, soul to soul, hiphop and African pop.
Blitz, on his part, will take the crowd on a journey comprising a fusion of late 1980s hiphop alongside contemporary African soukous, highlife and inflections of Papa Wemba and late Fela Kuti.
Spanish guitarist Josete Ordonez and his Ghanaian counterpart Kyekyeku will end the festival on Sunday, October 16 as part of activities marking the Spanish National Day.
Ordonez studied jazz and flamenco guitar from greats such as Juan Maya Marote and Eddy Goltz. Kyekyeku was a student of Ghanaian living legend Egya Koo Nimo.
The festival is being sponsored by the Embassy of Switzerland, French Embassy, Novotel Accra, Nestle Ghana, Movenpick Ghana, Akosombo Textiles Ltd, Lufthansa and the Spanish Embassy.