Single Premiere: Da Deeva – Obinna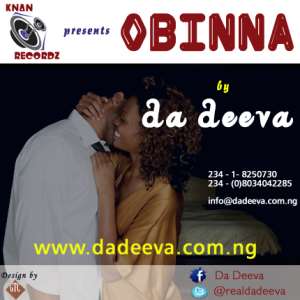 This is a new single from Da deeva titled "Obinna" , she is a 19 year old Singer / Songwriter / Rapper / Song Arranger / Dancer who resides in lagos, she had been singing in a live band for a while , she is signed to knan Recordz , Raised in lagos she learnt alot doing live performances , and now she has hit the studio for her first official single. She took a new turn in this first single ,she had been known for her love for R & B/soul and hip hop but this single is just off the hook with a flavour of highlife , she sings to obinna , this is a song you will hit replay on over and over again.
she is also a student of Yaba Tech studying business administration.
Da Deeva is working on another single , this is going to be a club banger to hit the clubs soon , it is an R&B joint wait till you hear what stuff she is made of , da deeva's drive, initiative, work ethic, and tenacity to perfect every facet of her craft separates her from other musicians/performers. Her live performances set's her apart from the rest with her high energy and her refusal to just be "ordinary" mentality.
This remarkable damsel has proven she is no stranger to the game, with songs written by her that crosses all genres, demographics, ethnicities and age barriers, Da deeva is indeed in a class of her own.
Download song here :
http://www.4shared.com/audio/P2z-HHSm/obinna_by_da_deeva.html
http://hulkshare.com/9mdo338jw3u8
http://beastshare.com/hspii3b9mqnc