Eric Don Arthur Gives The Challenge A New Direction.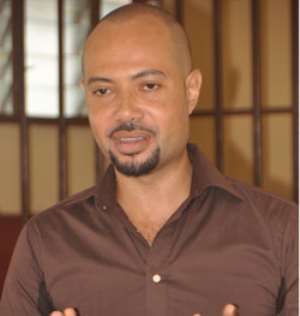 Eric Don-Arthur
He may come across as a laid back person, but trust the anchor of the highly-rated and recognized peak time programme on Ghanaian television to deliver.
Eric Don-Arthur is the gentleman that keeps the lovers of ' Sunrise' glued to their TV sets with his confident and striking looks.
He is fluent and has a great command over the queen's language, making him a delight to watch.
Eric, a mixed race born to a Ghanaian father and Russian mother in the late 1960s, is the new face of 'The Challenge'.
He takes over from Kojo Oppong Nkrumah, who hosted the two previous editions of 'The Challenge'.
For the next 13 weeks, Eric will be hosting 'The Challenge' season three.
Eric brings to 'The Challenge' not only his vast experience as an amazingly brainy television presenter, but a fresh breath of ingenuity.
Also, he brings a new direction to the competition; more intellect and solemnity on one side, and stimulating presenting antics on the other.
He was born and grew up in the largely populated Russian capital Moscow, where he had his pre-school education. The family relocated to Ghana after his dad, then an international student in Russia, obtained his PHD in architecture.
Young Don-Arthur was left to struggle with a cultural change, moving from a xenophobia country to a more hospitable one, and a change in his principal language from Russian to English.
''I was very young then, about 8 years when we moved to Ghana. Everything was so new and the attitudes were different. Russians shy away from strangers and here I was in a place where people always want to get closer to you. But with time, I became more comfortable'', Eric recounted.
At Achimota School, he exhibited intelligence, winning for himself a scholarship to study Industrial Mechanics in Austria. In pursuit of developing his artistic talents, Eric diverted from his specialized technical field, which saw him moving to London, where he partnered in a graphic design company in Covent Garden.
After three years, he returned to Ghana, where he expanded into advertising design, production, and specialized in photography. He worked with renowned designer St'Ossei and became a director of Silhouette, Ghana's first model agency. Eric's entry into TV was not a deliberate attempt, rather one he usually refers to as fortuitous.
''I accompanied a friend to TV3 to audition. He gave up when we got there so I decided to give it a try. I was later called to host then prime-time entertainment show 'Gold Blast. I did that until it was repackaged into Music Music when I voluntarily abandoned it due to personal reasons'.
''For this year, you can call me the challenger as I bring to you an exciting series, 'The Challenge' season three,'' Eric added.