Efo Kodjo Mawugbe Is Dead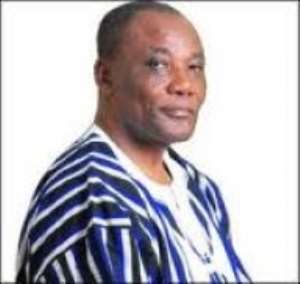 The late Efo Kodjo Mawugbe
Award winning playwright and Director of the National Theatre, Efo Kodjo Mawugbe, is dead.
He died at the Korle-Bu Teaching Hospital Tuesday night. He was 57.
Breaking the news on Peace FM, a niece of the deceased Beauty Amoah said the renowned playwright passed away on Tuesday night at the Korle Bu Teaching Hospital where he had been on admission.
Efo Kodjo Mawugbe from Ghana and Erin Browne from the USA were awarded the two top prizes in the BBC World Service and British Council International Radio Playwriting Competition in 2009.
Efo who was known for his writing prowess in drama earned the BBC's award with the play, The Prison Graduates which was selected out of 12,000 entries across the world.
A judge of TV3s 'Ghana's Most Beautiful' reality show, Efo Mawugbe's interest and talent in theatre drama begun at Mawuli School, Ho, where there was inter-house drama competition as a tradition.
He happened to have begun very well at the inter-house level and therefore joined the school drama group. Right from secondary school form one, he played the role of Senchi in Efua Sutherland's Edufa and by form three, he succeeded in writing a play for his house (TROST House) in the school.
He did not rest and through determination, and hardwork, he became a role model in the profession.
He was born on April 21, 1954 in Kumasi to Madam Comfort Tulasi, then a cook at Africa Hall of the Kwame Nkrumah University of Science and Technology (KNUST), and the late Michael Ayivi Mawugbe who worked with the laundry department of the University.
Efo Kodjo was married with six children, three males and three females.
He obtained his General Certificate of Education (GCE) Ordinary and Advance Levels from Mawuli School.
Efo Kodjo then gained admission into the University of Ghana where he studied Theatre Arts, majoring in playwriting from 1975 to 1978.
Later in 1991, he did a certificate course in senior management development at the Ghana Institute of Management and Public Administration (GIMPA). He also studied at the Bauff Centre for Management Calgary Canada in 1995 and was also sent to the E. T. A Chicago, USA on a USIS-sponsored attachment programme in Theatre and Events Organisation.
Efo Kodjo further studied at the British Council, Glasgow and London, where he did a certificate programme in Theatre Management and Audience Development.
In December 2006, he did Theatre Arts (MFA- Playwriting).
Efo Kodjo Mawugbe also has a lot of teaching experience having taught in a number of secondary schools and universities. For instance between 1977 and 1978, he was a part-time tutor at the Ghana Empire Secondary School where he taught English Language and literature.
From 1979-1984, he served as a Senior Research Assistant-African Theatre at the Kwame Nkrumah University of Science and Technology (Centre for Cultural Studies) where he helped students in the developing and production of plays. He also taught on part-time basis English language and Literature- Drama at the Technology Secondary School, KNUST, Kumasi.
Between 2001-2002, Efo Kodjo was a part-time Assistant Lecturer (Playwriting) at the Theatre Arts Department of the University of Ghana, where he supervised final year playwriting students. He was also the Literature in English tutor at the Methodist Secondary School, Sekondi.
In the year 2004, Efo Kodjo was a part-time lecturer in African Theatre (Theory and Practice) - Department of English.
Efo Kodjo Mawugbe who has since 2006 to date been the Deputy Executive Director (Artistic), National Theatre of Ghana, Accra, was in 2003 Festival Director-National Festival of Arts and Culture (NAFAC 2003). NAFAC is a biennial Arts festival that brings artistic groups of excellence throughout Ghana for a ten-day celebration.
Earlier, thus between 2002 to 2006, he served as the Regional Director of Arts and Culture-Western Region. He was also the Director for Research, Information and Public Education of the National Commission on Culture from 2001 to 2002.
From 1997 to 2000, he was the Regional Director of Arts and Culture, Centre for National Culture. In this capacity, he was responsible for the overall administration of personnel and all arts/cultural issues in the region.
He carried out the planning, formulating and executing of cultural programmes.
As the Director of Programmes/International Relations, at the National Commission on Culture, he was responsible for planning and monitoring and co-ordinating and evaluating of national culture programmes of all the regional centres for culture.
He was also in charge of the Committee that reviews cultural agreements between Ghana and other countries or international bodies. Efo Kodjo carried out all protocol duties involving foreign dignitaries and cultural delegations to Ghana and acted as the interface between the commission and international agencies in Ghana among other duties.
Efo Kodjo was the first Director of Pan African Historical Theatre Festival (PANAFEST Project) from June 1991 to January 1992. He was responsible for the planning and execution and management of the Panafest in Ghana, and laid the solid foundation for the continuous celebration of the event.
He was appointed Acting Executive Director for the W. E. B DuBois Centre for Pan African Culture - Accra in October 1990. He served there till June 1991. He also served as the Regional Director of Art/Culture, Centre for National Culture for the Central Region and the Arts Council of Ghana, Eastern Region.
Earlier from January 1979 to May 1984, as a Senior Research Assistant he carried out research into African Theatre and worked with students on theatre projects at the University of Science and Technology (Centre for Cultural Studies).
Efo Kodjo has won himself fellowships, honours and awards. These include VALCO Literary Awards (1979), Playwright of the year (ECRAG Award) in 1984, and Japan Foundation Award - Eminent Cultural Personalities from Africa - Short-Term Visit (1990).
In 1995, he was also Awardee-Chicago Artists International Programme and BBC Africa Playwright contest 3rd Prize Winner.
He has membership in some professional organisations. He is the organising secretary of the I.T.I (International Theatre Institute) and was a board member of the I.T.I Playwright Committee from 1991 to 1995. He was an executive member of the Ghana Association of Writers from 1979 to 1986, Artistic Director, Kozi-Kozi Theatre, Accra (1992-1993), Artistic Director -Kilomanjaro, CYCC, Board Member, National Drama Company (National Theatre (1997-2000) and Artistic Director-West-Coast Productions House (Takoradi) from 2004 to date.
He has to his credit nineteen publications (Drama). These include: 'A Calabash of Blood' - Radio Drama- GBC in 1978, 'Aluta Continua' - drama - produced for radio, stage and T.V. distributed in Africa by URTNA (1979) and in 1980, 'The Unbending Branch' - Radio Drama (GBC).
He has also published 'In the chest of a woman-drama - produced for stage (1984), 'Constable No Rank' - drama- produced by BBC, London Africa Service and for stage (1986), and In 1989 'You play me play - comedy for Radio.'
His other works are 'Take me to the Altar' - a play on society's responsibility to keep marriage sacred (1990), 'Tata Amu,' a play on the biography of Dr Ephraim Amu (1991), 'The Royals' - a play produced by Talents Theatre company for NAFAC ' 92 (1992) 'G-Yard People' - a play on the appalling conditions under which our people work to sustain the economy (1994) and in 1995 he came out with 'check point Charlie' - Radio Sitcon.
From 1995 to date he has also published 'Queen Zarita of Zarita - a play for stage on the importance of protecting individuals liberties in a free community, 'Mock- parliamentary debate on rape (produced for Kiddafest) and Upstairs and Downstairs (for his Masters Degree in Fine Art - thesis).
The rest are A.P.T. S. (Acquired Prison Traumatic Syndrome), Ananse-Kweku-Ananse, an experimental project aimed at making traditional African folktales very contemporary to our times, SITSOFE - a feature film script on the attitude of society towards the speech and hearing impaired children.
He also has to his credit a number of non-dramatic presentations. Efo Kodjo is a consultant, and has worked on a number of projects, especially in the country, some of which are still on-going.