Dr. Kofi Amoah gives MUSIGA US$100,000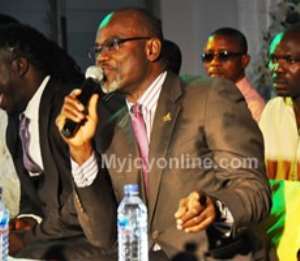 Dr Kofi Amoah speaking at the inauguration
Business magnate and owner of the Citizen Kofi Entertainment Centre, Dr. Kofi Amoah has pledged an amount of US$100,000 for the upkeep of the Musicians Union of Ghana (MUSIGA).
Dr. Amoah made the declaration during musician, Bice Osei Kuffour, popularly known as Obour's investiture as the new MUSIGA president at a colourful ceremony at the MUSIGA hall in Accra, Thursday.
The business magnate made the announcement during his closing remarks as the chairman of the investiture ceremony. Most in his audience were stunned by the whopping amount.
"I want to contribute US$100,000 to support MUSIGA and with this I am calling on other corporate organizations in the country to [also] step up to the mic," he declared.
While he agreed that many have done their bit to make the musicians body what it is today, he said it was disheartening to note that over 80 percent of organizations that support MUSIGA are foreign outfits, questioning, "where are the Ghanaian institutions, where are the Ghanaian individuals?"
To him, musicians can make a lot out of their trade if only they packaged their songs properly, advertise, market and "make sure it is distributed properly with the right video to support it," adding, "we have to think big."
He however called on the government, which he acknowledged has done considerably well for musicians, to do more to support MUSIGA, saying "we hear that the private sector is the engine of growth and engine needs fuel… put in some cash in these areas and I think you people here (musicians) will take the baton and run with it."
Thursday's inauguration saw Obour take up the helm of affairs of MUSIGA for a four year term, succeeding Mrs Diana Hopeson.
Obour polled 64 votes to beat contenders; Nana Tuffour who had 51 votes, Gyedu Blay Ambolley, 24, and Willie Roi, 2 votes at the August 18 elections at MUSIGA's congress in Tamale.
New executives were also inducted into office at the ceremony.

Story by Ernest Dela Aglanu/Myjoyonline.com/Ghana