OKAY FM Supports Eid ul-Fitr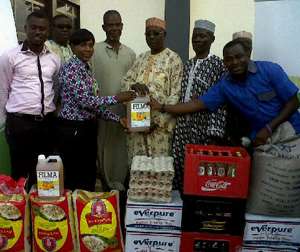 Akosua Aboagye (3rd left) presenting the items to the muslim leaders
Okay 101.7MHz, the Abeka-Junction Ship House-based sister station of Peace FM , as part of its corporate social responsibility, has made a donation to Muslims in the Tesano Township as they mark the end of the month of Ramadan and celebrate Eid-ul-Fitr.
The items, which included bags of rice, sugar, boxes of mineral water, crates of eggs, cooking oil and a huge ram, was Okay FM 's way of wishing Muslim friends, listeners and fans of the radio station, Barka De Salah after a successful observation of the fasting month.
Making the presentation, ace broadcaster and versatile presenter, Gabriel Abeiku Aggrey Santana explained that the donation from Okay FM was to identify with Muslims during this period of Ramadan since that, in itself, was a gesture of reconciliation with people of the Muslim faith.
Leaders from the Tesano Mosque, Alhaji Muntala Alhassan, Alhaji Ibrahim Bonney, Alhaji Yusif Ibrahim and Alhaji Bulari Alhassan, who received the items on behalf of the Tesano Township, expressed their gratitude to the management of Okay FM .