HERE COMES NATURALFACE…. an artiste with credibility!!!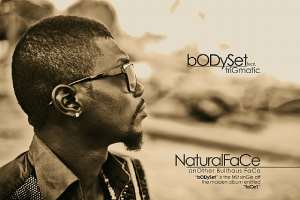 He is another budding artiste but more importantly he is a gifted musician filled with charisma, unusual talent and overall, interminable creativity.
You are introduced to the multi-talented and the astounding music sensation NATURALFACE, another discovery from the camp of Bullhaus Entertainment.
NATURALFACE has been around for a while and is certainly an artist with credibility. As an inimitable artiste, versatility is his hallmark and comes across as the 'hybrid' sort of artist heavily influenced by Reggae and Dancehall music. His strength lies in his lyrics plus his ability to deliver on the very beats and hooks one wouldn't consider.
Having grown up in the Bariga suburb of Lagos and a Ghanaian/Nigerian in nationality, NATURALFACE adds a fusion of the Nigerian music rhythm and the Ghanaian alternative melodies to Reggae cum Dancehall tunes to make up for his funky-freaky style of music.
His first shot at mainstream music came in 2007 when he featured on the maiden 'Ur Luv' album of the dynamic music group 5Five. On the album,
NATURALFACE vindicated himself with an exceptional delivery and proving all skeptics wrong.
He won the hearts of many when he featured on a song with Iwan entitled "Still Love Me".
This week sees the release of the first single off the long awaited album of NATURALFACE. Titled 'BodySet', the single features the GMA winning artiste Trigmatic and chronicles the beauty and pride of the african woman.
His maiden studio album entitled "Face1" is expected to be in stores middle of next year and will have joints worked on by some of the nation's finest producers and also feature several Ghanaian music stars including Tinny, Castro and Gyino (of 5Five fame).
Enjoy NATURALFACE another Bullhaus Face...
Thanks for your support through out the years..
Bullhaus Entertainment
0277-493897 / 0276-296081