Ron Kenoly and others set to take Adom Praiz to another level!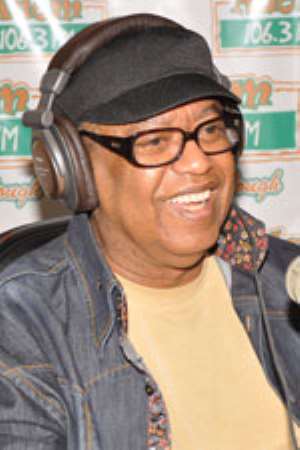 World renowned American gospel singer Ron Kenoly
The world renowned American gospel singer Ron Kenoly touched the soils of Accra last Wednesday and already he seemed geared up for Adom Praiz tomorrow at the Conference Centre!
In a brief interaction with media personnel after his arrival, Dr. Kenoly, who was in high spirits, said, 'I'm excited to be back in Ghana again; I'm looking forward to the concert and everything that is going to happen before the day.'
The praise and worship singer will lead the line-up of accomplished local stars, including Stella Seal, Tagoe Sisters, Mary Ghansah, Daughters of Glorious Jesus, Soul Winners, Philipa Baafi, Nii Okai, Cindy Thompson, Cecilia Marfo and Yaw Sarpong, at Saturday's praises and worship concert.
On what people's expectations should be on Saturday, he said, 'I am committed to the sayings of the Scriptures and my calling to help people experience the manifest presence of our heavenly father through praises and worship, so people should come and experience some intimacy with God.'
He disclosed that he does not minister at a concert without giving people the opportunity to accept Christ as their personal Lord and Saviour, so that will be part of his goal when he mounts the stage.
The Praises and Worship leader added he was looking forward to seeing believers throng the International Conference Centre to participate in Adom Praiz, so they can witness the show of a lifetime.
Saturday's night-long gospel concert is the third since its institution in 2009 as an annual praise and worship platform to honour God for the fulfilment of His promises.
As a gospel musician, Ron Kenoly is also a celebrated worship leader, singer and songwriter. He began working in full time ministry in 1985, when he started out as a worship leader at the Jubilee Christian Center in San Jose, California. Not long after that, in 1987, he was ordained and installedas Music Pastor.
Ron Kenoly began singing in a Baptist church in his hometown, Coffeyville, Kansas. He spent time working in the Air Force and raising a family, and later became a successful charting singer in the early '70s in Los Angeles, but recommitted his life to Christ in 1975.
Dr. Kenoly, then received his master's degree in music at the College of Alameda in California, and became a voice teacher.
He began to lead praise & worship services at a local Pentecostal church, and caught the eye of Integrity Records, which signed him to a contract. His first album, Jesus Is Alive, was followed by the fastest-selling praise & worship album ever, Lift Him Up.
Both that album and the next, God Is Able, were nominated for Dove awards.
Kenoly has also released Sing out with One Voice, and in 1995 passed the one-million mark in total sales. In 1996, he released Welcome Home, his major label debut; Majesty followed two years later, and in 1999 Kenoly returned with We Offer Praises. Dwell In the House followed in spring 2001.
Ron has two sons who are also into gospel music. They are Samuel and Ronald Jnr. The duet performs under the name the Kenoly Brothers.
As part of his schedule, he will be a special guest on Adom FM's drive programme, Ofiekwanso, after a stop at his hotel.