Thank God We Are Not a Nigerians is an insult – Blakk Rasta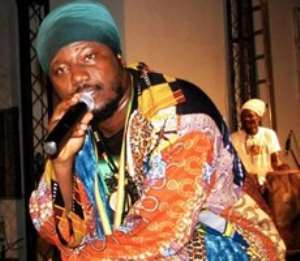 Blakk Rasta
The controversies emanating from the FOKN Bois' latest single, Thank God We Are Not a Nigerians is definitely not ending any time soon as many have called on the duo to withdraw the song before it poisons the atmosphere.
While Nigerians have bared their vehement disapproval of the song, the duo, made up of Wanlov the Kubolor and M3nsa, still hold their stance that the song is a mere joke and must be taken in good faith.
Reggae musician and Hitz FM's Taxi Driver host, Blakk Rasta thinks otherwise.
He has tweeted "as a panafricanist, I strongly condemn d (the) recent song by my gh (Ghana) duo about/against nigeria. the effort was worthless..period!"
Born Abubakar Ahmed, Blakk Rasta affirmed his stance in an interview with Myjoyonline.com saying, "Anything that will inflame passion at a time that we are looking for African unity is something that I condemn."
Blakk Rasta said the group's defense that the song is a mere joke is out of context because "jokes that will tear us apart must not be encouraged," adding, "It's gone beyond a joke, it's an insult!"
"It's not a joke, let us be honest. A joke that is encouraging people to go for other wears (clothes) apart from African wears?"
According to him, we have had so many tribal jokes in this country, an example being people teasing Ashantis for their phonetic challenges in pronouncing the letters 'r' and 'l'. These, he said, are not healthy for the country.
Much as he respects Wanlov and M3nsa, the Barack Obama hit maker thinks the song is a "wasted effort" adding it "is an effort that is going to disturb us as Africans."
The song has so far received several rebukes from Ghana's friendly 'foe' Nigeria and according to Blakk Rasta, he is praying and hoping that it does not strain relations between the two nations.
Blakk Rasta admitted that the duo is very comic when it comes to music and he loves them but questioned who in Nigeria knows that they are comical?
He called on the FOKN Bois to apologise because, to him, it is a publicity stunt that has back-fired adding it is "unfortunate,". He entreated further that the song must not be played so as to safeguard the peaceful relations Ghana and Nigeria are enjoying.
With Wanlov planning to visit Nigeria later in the year, Blakk Rasta wondered whether the artiste's safety can be assured considering the heat following the song.

Story by Ernest Dela Aglanu/Myjoyonline.com/Ghana