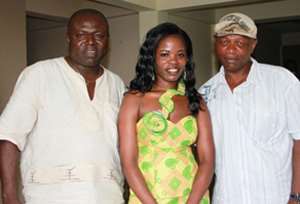 Miss Harey Umu (middle) president of the organisation in a pose with Sloopy Mike Gyemfi (left) and Nii Mantse
A newly formed charity organization, Wo Ye Gye-Ghana (WYG), which was formed last week, was launched at the weekend at a colourful ceremony at La Paloma in Accra.
The ceremony attracted a number of personalities which included MPs, radio presenters, musicians and movie stars.
The president of the organization, Harey Umu aka Ohemaa, a radio presenter on Top Radio , noted that the organization was formed to raise funds to support some selected needy homes in the country.
She disclosed that the aim and objective of WYG was to empower the youth for nation building through career development, training workshops, seminars, skill training among others.
According to her, the organization, which has a membership of about 30, would work tirelessly to assist less privileged people in the society.
Miss Harey disclosed that currently the major challenges facing the organization were the means to acquire a permanent office to operate fully. She appealed to individuals and organizations to come to the aid of WYG.
She hinted that her organization was currently seeking funds to support Suhum-based Jehovah Rapha Children's Home with about 100 bags of cement and other building materials to help the home complete its ongoing school structure for the orphans.
By George Clifford Owusu