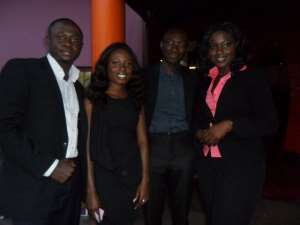 15th August, 2011 - Viasat 1 is set to begin its daily news program VIASAT 1 NEWS. VIASAT 1 NEWS which premieres Monday 15th August 2011 at 7:30pm is the fourth in the channel's own productions effort, preceded by THE ONE SHOW, LAUGH A MINUTE and THE UEFA CHAMPIONS LEAGUE STUDIO DISCUSSIONS. The 30 minute daily news program will be built around local and international headlines in business, entertainment and sports news, as well as weather forecasts.
According to Viasat 1, the news will be produced and broadcast using state of the art technology, with the ambition of setting new standards for news reporting in Ghana. It is in line with this that the channel has set up a news team consisting of seasoned professionals who are committed to delivering the best in news. The four main news anchors who will man the Viasat 1 News desk are Emmanuel Kwasi Afriyie, Nana Ekua Asanteba Mensah, Zenaida Morrision and Derek Worlalorm-Johnson.
Chief Operating Officer of Viasat 1, Charlotte Gustavsson, told the press, "The news will be fresh and revitalizing as the rest of our own productions. And we also believe that it is important to be objective and trustworthy when doing the news. These have been two key words for us when setting the framework for our news"
The COO also reiterated that Viasat 1 is presently at number 2 on the Ghanaian free to air television market, with 17.4% share of viewership and it is their hope to not only be the number one entertainer but the number one TV station in Ghana. Thus the Viasat 1 News is in line with its promise of making selective investments in the Viasat 1 brand to take further market shares.
The Viasat 1 News will air 7.30 pm every day of the week, 365 days a year, and the news will be crisp, concise, balanced, free of sensationalism and above all captivating, with a clear difference of it having a different pace from what is known presently.
ABOUT VIASAT 1
Viasat 1 is part of the international broadcasting media group Modern Times Group MTG AB. Modern Times Group MTG AB is a leading international entertainment broadcasting group with the largest geographical broadcast footprint in Europe. MTG's Viasat Broadcasting is the leading free-TV and pay-TV operator in Scandinavia and the Baltics, and has broadcasting operations in Bulgaria, Czech Republic, Hungary, Slovenia, Russia, Ukraine and Ghana. Viasat's free-TV and pay-TV channels and pay-TV platforms attract a total of 125 million viewers in 31 countries. MTG is the major shareholder in Russia's largest independent television broadcaster CTC Media and the number one commercial radio operator and Internet retailer of entertainment products in the Nordic region. Modern Times Group MTG AB class A and B shares are listed on Nasdaq OMX, Stockholm's Large Cap market ('MTGA' and 'MTGB').
FOR FURTHER INFORMATION
CONTACT: AFI DZAKPASU
TEL: 0277803312