ACTRESS/MODEL EEEFY TO SPEAK AT INTERNATIONAL WOMEN'S 2.1 SUMMIT IN GHANA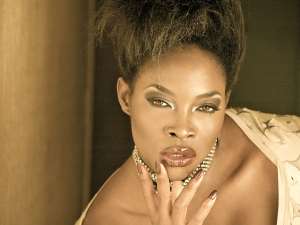 LOS ANGELES, Calif. (Aug. 8, 2011) - International actress/model Eeefy Ike of Nigeria, has been selected to speak at the International Women's 2.1 Summit in Ghana, to be held from Oct. 7-16.
"I'm extremely honored to join a unique group of speakers to help further the growth of women everywhere through this exciting event," Eeefy said.
As a little girl, Eeefy was outgoing and carefree, known for her pretty face and smile. Then she was violently attacked by intruders in her home. Years later Eeefy has carved out a successful modeling and acting career and is now encouraging others to persevere and overcome obstacles through her new book "Peering Through the Depths of Life," and speaking engagements.
The Summit, www.woman21summit.com, is meant to empower women in all walks of life and to encourage them to achieve their goals and overcome the struggles and challenges facing women today, organizers say. Having been awarded a U.S. House of Representatives Congressional Recognition Award in 2009, the summit has attracted scores of visionaries, authors, educators, artists, journalists, celebrities, business leaders and others to share their experiences and to help women achieve greater things.
Eeefy's new film "Who is the Man?" is scheduled for release in December through AEG and Pascal Atuma Productions. But she is best known for her modeling work for various publications as well as scores of national television commercials for such brands as Gillette, Burger King, Keglevich Vodka, Sauza Diablo Tequila, Comcast High Definition, Diesel Jeans and many others, including a Nokia International product launch. Her work includes guest starring in the John Stamos 20th Century Fox television series, "Jake in Progress," Dyan Cannon's "Get Your Luv On," series as well as a number of independent films.
Her new book "Peering Through the Depths of Life," was released this month and is available on