Adjorlolo Plays The Miser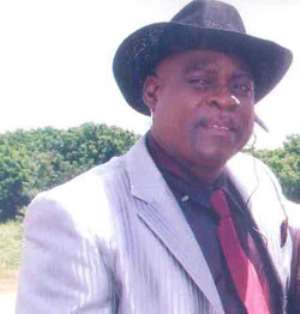 Kofi Adjorlolo
Top actor Kofi Adjorlolo is the man to watch out for in Selassie Ibrahim's upcoming series ' The Miser' .
Critics say his role in the series is one of his best in recent times in the wake of attempts to stifle his career through a controversial ban by the Film Producers Association of Ghana (FIPAG).
'The Miser' is directed by award-winning director John Ezedome and produced by Selassie's Samrtty's Management Productions.
The series will start airing from August 13 on a number of TV stations.
'The Miser' tells an interesting story of Efo Kodwo (Kofi Adjorlolo), a well-read man Ewe man married to Aishetu (Selassie Ibrahim) who hails from the north.
Efo is a wealthy farmer who hides his riches from his family and friends and tries to live an economical life. He makes life unbearable for his family to the extent that he measures everything at home including a pot of soup and even music played by his children. Simply put, he dominates his family with his strict, stingy ideologies of economics.
But there is only one person who can stop him- his mother-in-law, Hajia (Grace Nortey).
Immediately Hajia enters his home for a visit, Efo becomes very a sober and loving father and husband. His daughter Dela (Roselyn Ngissah) takes advantage of Hajia's presence to benefit from her miser dad.
Last Tuesday, the series was premiered at TV3's Executive Theatre.
Entertainment journalists and cast were thrilled by Adjorlolo's performance.
The series also stars John Dumelo, James Gardiner, Nadia Buari, Nana Ama McBrown, Roselyn Ngissah and Henry Agba.
Several other actors were considered for Kofi Adjorlolo's role but he got the nod.
The story is the kind that most Ghanaians can relate to and its setting is not as glamorous as most local TV series have been in recent times.
According to Selassie Ibrahim, 'It is a typical Ghanaian story and I'm proud to be associated with it because I'm Ghanaian. It's a true story from a region in Ghana…I thought this is something else.'
It took a year-and-half to finish writing the story for the series which already has 30 episodes.