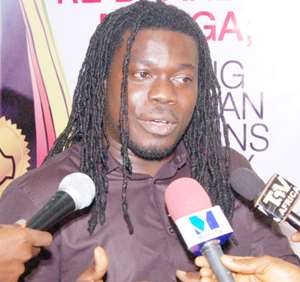 Obour
Bice Osei Kuffour aka Obour, one of the outstanding Ghanaian hiplife artistes who has won international recognition, has finally launched his campaign for the presidency of the Musicians Union of Ghana (MUSIGA).
Obour, who is currently the national youth organizer of the union, has worked tirelessly to convince his colleagues and music fans that he is capable of managing the affairs of the union.
The aspiring president announced at the launch that when voted into power as the president of MUSIGA, he would change the plight of musicians in the country as well as put in place policies that would protect the interest of the musicians.
Being the youngest in the contest for the MUSIGA presidency, Obour is battling veteran musicians like Gyedu Blay Ambolley, Nana Tuffour and Willie Roe, who have similar ambitions, but all eyes are on Obour now because he is the only candidate who has made programmes for the union that are known to all.
'I have plans to ensure that in the short to long run, musicians are recognized and respected when in Ghana, travelling out of Ghana or working abroad.
As a young musician myself, who is very close to most of the musicians, I know most of our pressing problems and would be in the best position to learn even more and help solve them.
I believe musicians, dominated by the youth, would find me easiest (among my other candidates) to approach as their young president to discuss and suggest solutions to making their lives better,' he said.
At the launch, president Obour outlined his seven point agenda – administration , jobs, unity, music business , ageing, policies and achievements – for the music industry.
Obour explained that his seven point agenda conveyed developmental plans and programmes that were tangible, realistic and deliverable if he was elected as MUSIGA President.
According to him, the Musicians Union of Ghana was not attractive because of the lack of adequate systems and structures in it, adding that under his leadership, he would work vigorously to put better structures in place to take care of musicians, notably old musicians who became inactive in their old age.
He noted that when elected as President, his management team, made up of result-oriented professionals in various fields, would join existing qualified staff of the union to kick-start the rebranding project.
'Rebranding as you know is the creation of a new image, symbol, design, and focus of an established brand with the intention of developing a new position in the mind of stakeholders and competitors.
This move essentially involves radical changes to brand MUSIGA with different management and marketing strategies typically aimed at repositioning http://en.wikipedia.org/wiki/Positioning_%28marketing%29 MUSIGA to make it upbeat and up market,' http://en.wikipedia.org/wiki/Marketing_strategies he stressed. http://en.wikipedia.org/wiki/Upmarket
President Obour said he would work tirelessly to 'restore the image, pride and dignity of the union and also change the negative perception of Ghanaians about musicians.
'This is very important since achieving my vision will depend on the attractiveness of the face of the union. An attractive MUSIGA will certainly attract members, general attention and businesses from Government and corporate Ghana'.
Obour disclosed that his administration would, firstly, seek to develop local talent by providing live band equipment and rehearsal facilities for local offices of MUSIGA in the remaining nine regions within his first 100 days.
Top sound engineers, music producers and video directors would be encouraged to record with musicians from other regions to afford them the opportunity of working with professionals.
By George Clifford Owusu