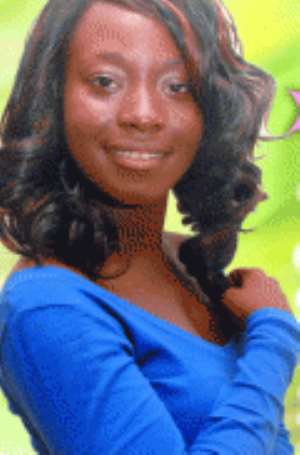 Eunice Ohene who played the role of Bibi in Single Six
Movie producer Abdul Salam Mumuni has over the years helped to nurture many talents who have grown to become screen icons.
Actresses Jackie Appiah who made her debut in the movie Divine Love, Yvonne Okoro making her debut in Beyonce, Yvonne Nelson in her debut Return of Beyonce and Nadia Buari in her debut Mummy's Daughter, have all passed through Mumuni's Venus Film Production company.
Last week's media preview of Single Six, a movie directed by Pascal Amanfo and produced by Mumuni introduced a new face whose remarkable debut performance suggested that she was the next actress on her way up.
earned a lot of commendation playing the daughter of Tatiana (Yvonne Okoro).
This is the daughter, who left to Tatiana alone, would not have been born. Mother sees daughter as a misfortune and therefore Bibi is left with the father in London and she is kept as a secret.
After many years in London Bibi returns to her mum just when she was about getting married to her dream man. Tatiana in order to save her marriage introduces her only daughter as a relative to the husband-to-be.
Both Yvonne Okoro and Eunice do well to execute their roles as mother and daughter competently and make it seem as though they have been acting together for ages.
In real life, Eunice Ohene who hails from Obuasi in the Ashanti Region, spent most of her life in the UK where she graduated from the University of Abertay Dundee in Scotland. She has been back in Ghana only a few months.
She told this reporter that being a part of this movie wasn't planned. "I met Pascal, the director, not knowing he was a filmmaker and he asked if I could come and audition for a role in his movie and I said yes". Before that, she had been introduced to Venus Films by her friend, Maame Darkoa.
When asked which roles she loves to play Eunice said, "I love crazy stuff. Something like the female version of Majid. I also love any role that would challenge me to give my best.
"It wasn't easy on the set but Pascal was amazing and after the media preview, almost everyone I met gave a thumbs up and I was happy, not because I had done well rather, for not letting Pascal down".