Awake To Know Africa To Promote Ghanaian Culture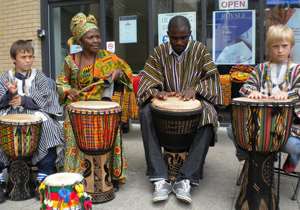 Vicky, founder of ATKA (2nd left) performing with some children
Awake To Know Africa (ATKA) is a community interest organization that works with parents, teachers, children and young people in the community, in schools, after school clubs, nurseries, family and children's centres, teaching them about UK/African cultures and heritage.
ATKA incorporates specialized learning resources from Africa like storytelling, dancing, drumming, concerts, role-play, songs, poems, costuming etc so that their target groups are able to appreciate and understand different aspects of Africa.
Its programmes provide a positive insight into the diverse cultures that make up Africa. Often in the news about Africa are war, famine and pestilence.
According to the organization, the African continent has a rich and interesting tradition and by providing young people with a better understanding of the real Africa, it aims to give children from an African background pride in their heritage and other children a more positive and accurate view of the continent and what it has to offer.
ATKA also supports young people to have understanding of different cultures and diversity through the use of painting, reading appropriate cultural books and stories that have been translated into English.
'ATKA came about as a result of my over 10 years' observation as a teacher. During my study, I found out that the classroom and the community lacked equality and diversity, making it difficult for African pupils, teachers and families to integrate properly into the British culture and other cultures that exist in the United Kingdom.
'The UK is 'home' to a growing number of African communities and still very little is known about them.  ATKA believes that this should change, allowing for greater understanding and integration, especially in the classroom and within the community,' Vicky, the founder noted.