5 Reasons Why Obour Should Be The Next MUSIGA President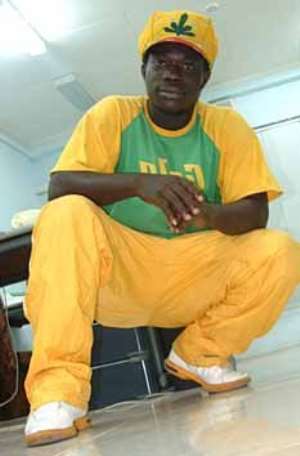 Obour
2009 Ghana Music Awards artiste of the year, Okyeame Kwame, thinks Obour is the best man to lead the Musicians Union of Ghana (MUSIGA).
In an exclusive interview with DAILY GUIDE, Okyeame Kwame gave five reasons why he wanted Obour to be the next president of MUSIGA.
'I don't understand why people say he's too young to lead MUSIGA. Rather, I think while he is still young, we should take advantage of his brilliantly youthful ideas before they turn old', the ' Faithful ' singer noted.
'Firstly, I think he's matured and experienced enough in life and most importantly in this industry, to lead us. 12 years of active musicianship with 6 award-winning albums, having worked closely and collaboratively with musicians across Gospel, Hiplife, Highlife and Reggae genres, that is experience enough to me', he said.
'Secondly, I see a visionary in Obour', the musician tagged the best rapper alive said. 'Even before he starts any project, Obour seems to know where and how he's ending. No doubt he was the first Ghanaian musician to win the World Bank Music for Development Award and the first Hiplife musician to be presented with the Grand Medal State Honour for Music by a sitting president of the Republic of Ghana. Those two awards were in recognition of his efforts at using music to positively impact national development'.
Okyeame Kwame, known in private life as Kwame Nsiah Appau, noted that his third reason for choosing Obour over the other three competing for the MUSIGA presidency was the fact that 'he's highly corporate about things. Obour understands how the modern corporate world works and I think the union needs to use his way of handling business with corporate people'.
He was of the view that Obour was among a few musicians who owned their active record labels, event and TV production companies, and managed other businesses aside music.
'His noble image, coupled with his university (of Ghana, Legon) education, makes him the best candidate to lead the union', Okyeame Kwame stated.
'Good news is he already has the contacts in the private and public sectors. We only have to explore them by making him the manager of our union.
'For a musician promising enough to earn a $60,000 scholarship package from databank Foundation to train in Leadership with the Aspen Global Leadership Network (AGLN ) in USA, it is impossible not to see him as a prospective leader. Also, the British Council appointed him as a Good Will Ambassador for Climate Change in Africa. I call that leadership testimony', says the ex-Akyeame member.
Okyeame Kwame thinks that the union could benefit from the commercial skills of a musician who could raise sponsorship and funds by himself (without financial benefits as a major brand Icon).
'Fourthly, I think we can all take advantage of his middle age status to close the gap between the old and young musicians. Musiga, under Obour, will certainly attract more young musicians'.
Finally, Okyeame Kwame thinks Obour's record social responsibility projects that have enhanced the image of the entire musicianship are worth emulating, hence making Obuor the best candidate to lead the pack.
'He has singlehandedly contributed so much to the respect accorded musicians today through his road safety and educational campaigns. Don't forget until recently, he was the national youth organizer of the union responsible for making the union attractive to young musicians', he said.
Okyeame Kwame concluded by saying: 'I don't know about other musicians, but I think MUSIGA, under Obour's management, would make things better'.
By  Beatwaves Reporters