Johnny Depp signs on to fifth Pirates movie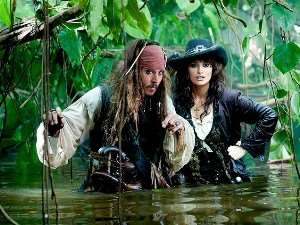 Johnny Depp is set to star in a 5th Pirates of the Caribbean film - after it was revealed he has already earned a staggering £200m from the movies.
The actor is reported to have negotiated a 'cash break' deal that guarantees he shares in the profits of the hugely successful film franchise.
With the four previous films taking over £2bn at the box office Depp's deal means he has earned close to £200m ($350m) for his part of swashbuckling Captain Jack Sparrow.
The pay deal puts his streaks ahead of any other Hollywood star who appeared in a film franchise.
Hollywood blogger Sharon Waxman said Depp is paid a percentage of the movie's gross profits after production and marking costs have been met.
The deal is known among Hollywood stars as the 'cash break' and has replaced the traditional 20 per cent share of gross earnings negotiated by many A-list stars.
The latest Pirates film On Stranger Tides is the most successful film of the year so far and has taken over $1bn at the worldwide box office.
The sequels in 2006, 2007 and this year took almost double that amount as the popularity of the films grew.
In addition to Sparrow, he played the Mad Hatter in the studio's 2010 Alice in Wonderland, which grossed more than $1 billion worldwide. He is also set to star as Tonto for the studio in next year's The Lone Ranger.
Depp's $350m for the Pirates franchises dwarfs the pay of any other actor who has appeared in multiple films.
Harrison Ford is estimated to have earned over pds120m for playing Indiana Jones in four films. In 2009 he was top of Forbes highest paid actor's list with pds30m($43m) for the fourth film The Crystal Skull.