Sarkodie To Rock Night Of 1012 Laughs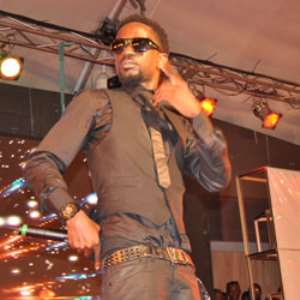 Sarkodie
AUDIENCE to show up at the Dome of the Accra International Conference Centre on Saturday, July 9, 2011 for the most hilarious night of the year, the Night of 1012 Laughs and Music, will be thrilled to a show worth their monies.
Confirmed for the night are the finest of artistes the nation can boast of. On the bill will be the nation's fastest rapper and currently the most sought after performer, Sarkodie, who will mount the stage to thrill the audience with his tall list of hits.
The multiple Ghana Music Award winning artiste will for the first time perform in grand style, his latest banging single which is receiving heavy rotations both on radio and television. Titled 'You Go Kill Me ', Sarkodie is surely going to kill the entire audience with his craftily planned act for the night.
Known for his astounding performances and his ability to hold the audience, the Tema-based rapper promises to prove his worth and why he remains Ghana's biggest artiste in recent times.
Also on the bill will be the amazing songstress and one of the reigning best Ghanaian female vocalists, Efya. Having grown into a more matured performer and a singer with purpose, the ' Sexy Sassy Wahala ' and 'Little Things' singer will do what she is best known for; exciting her crowd.
Legendary Highlife musician with a career spanning over 20 years, Ben Brako, will be another performer on the night. He will add up to the excitement with his classics including ' Baya' and many more.
Dubbed as the most hilarious night of the year, the event promises to be nothing short of skilfully crafted witty jokes to get patrons laughing their hearts out all night long.
Comedians for the night include the likes of Godwin Komone, popularly known as Gordons, who has promised to unleash his arsenal of rib-cracking jokes and anecdotes on the night.
Ghana's best comedian, Funny Face, will also be in action to deliver a series of swag-on jokes and dance steps.
Also from Nigeria will be Owen Gee, a multi-talented entertainer who continues to enjoy the status of one of the most sought after comedians. Known as Osemwengie Owen, Owen Gee returns to the Night of 1012 Laughs and Music to give his numerous fans another dose of his limitless humour.
Emeka Smith is another Nigerian comedian best described as naturally hilarious.  Emeka has been conspicuously dominant on the Nigerian comedy front with a record performance at major Nigerian comedy shows. He will be another spectacle to watch just like his compatriots Bash and Elenu.