See It, Love Him: Amakye Dede On Video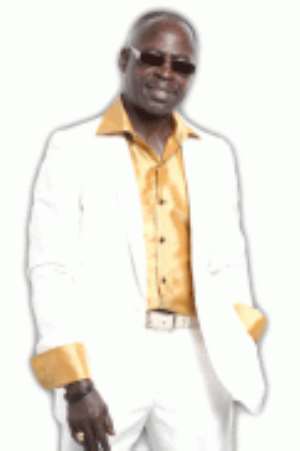 Aberantie Amakye Dede
The first major solo concert in Ghana by highlife star, Abrantie Amakye Dede, was at the Accra International Conference Centre on December 27 last year and those who could not make it to that memorable show now have the chance to see it on video with the release this week of Amakye Dede (Best Concert Video) Volume 1.
Distributed and marketed by Stephen Boohene's Stebo Records Inc., the video is an account of the concert organised by Fred Darko's E-Volution International to showcase the 'new' Amakye whose popularity has soared very high in recent times.
"It was one of his best live performances and that is why we have packaged a video of it to retain the 'live' feel," says Boohene who is widely known as Original Stebo. "Not everyone can see every live show that comes to town but with the video, anybody anywhere can get a copy and watch it".
Amakye Dede gave out his best during the two-and- half hours or so show that attracted former President John Kufuor and many other dignitaries. The Amakye Dede (Best Concert Video) Volume 1, which has been released in Ghana and the United States, contains footage on half of the show.
Songs dished out by Amakye and his band in the video include Akoko Be Bon, Su Fre Onyame, Dabidabi Ebeye Yie, Adukuro Mu Nsuo, You Broke Your Promise, Odo Ho Akyere Noa, Iron Boy, Odo Da Baabi, Odo Nsheme Awereho and Madamfo Pa.
Describing the show at the time that it happened, Graphic Showbiz wrote, 'The consumate showman that he is, Amakye knew when and how to do that trademark squat-jump dance of his, do a pantomine with the guitarist and be generous with his shouts of 'seeerious,' 'yiee' and other banters at the most appropriate moments when he was likely to get the full attention of his audience, most of whom were standing and dancing along with him'.
The band that backed Amakye at the show comprised Thomas Ampah and Abu Mohammed (backing vocals), John Nortey and Daniel DeVeer (keyboards), Kweku Mensah (lead guitar), Dan Grahl (bass guitar), Osei Tutu (trumpet), Kwame Thomas (violin), Adjetey Sowah (congas), Kweku Obeng (cowbell), Benjamin Osabutey (trombone), Isaac Acheampong (drums).
It was a really solid band and Graphic Showbiz wrote: 'The 12-piece backing band was excellent on the night and the effective communication and rapport between the band and the singer was absolutely fantastic and was a contributory factor to the success of the concert.'
According to Original Stebo, there are already requests from Nigeria, South Africa, Canada and England for copies of Amakye Dede (Best Concert Video) Volume 1.
"I'm not surprised that requests are flooding in for the video. Highlife is a very beautiful style of music and a video of a good concert by a good exponent like Amakye is worth having," says Original Stebo who recently put out videos on two other highlife giants: Nana Kwame Ampadu and the late Alex 'One Man 1000' Konadu.