Lydia Forson Nets Deal In Kenya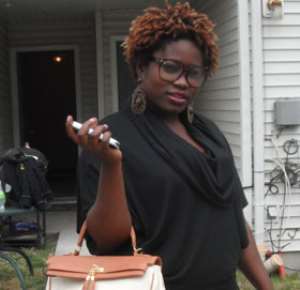 Lydia Forson
Star actress Lydia Forson returned to Ghana last week Wednesday after a month-long holiday in New York but she dashed out of the country again for a film project in Kenya.
The project, sponsored by Deutsche Welle (DW) Academy, a subsidiary of DW TV, is a two-week intensive training to equip selected filmmakers across the African continent towards producing an international standard film.
The film, when produced, will be circulated in all film festivals across the world.
Lydia Forson happens to be the first Ghanaian actress to make it for the project. Ahead of her departure to Kenya on Saturday, she told NEWS-ONE that she was happy to have been invited for the project.
'I have always wanted to do a movie in Kenya because I have seen their picture quality and it is very good. As you know, I don't want do what everybody is doing. I want to be the one who will do something different. It is a big project and I am really excited to be selected from Ghana to participate in it,' she said on Friday.
This is the actress's second successful story this year in breaking barriers into different industries on the African continent.
She was first cast for her first Nollywood movie in Nigeria in February this year.
She said she had not been travelling in recent times for pleasure alone but also business.
She described her trip to the USA as a business and pleasure trip.
However, she was mute on whether she had some deals coming from Hollywood.
While in the US, she said she had a photo-shoot for a magazine, Face To Face African , which will be circulated worldwide.
She was also invited as a special guest for the premiere of award winning African movie titled 'Viva Riva' in America.
She also had a series of meetings with some industry players in the America movie industry for projects she refused to talk about.
'It is not everything I want to say but I had meetings with people in the movie industry in America and I think it just validates or confirms everything that I ever said that we have to work hard from Ghana.
'The whole illusion of getting to Hollywood does not exist. The only way we can make it to Hollywood is by doing the little you are doing here and be recognized. These are people who recognize my work from here, Africa and when I had the meetings with them, they had already researched me and have information about me before I met them,'   she concluded.