June 23, 2011
|
General News
J H Kwabena Nketia - Portrait Of A Young Man At 90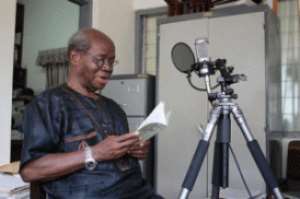 Professor J. H. Kwabena Nketia is one of the very few Ghanaians today who qualify to be called living legends.
At 90 years this week, Prof. Nketia the teacher, musician, composer and writer is easily the most published and best known authority on African music and aesthetics in the world. He is also the "youngest".
At 90, Prof Nketia can still make time to sit with young people whenever he has been approached and share his thoughts. He still has a spark in his eyes when he is talking about music, poetry, or just life as it was lived in the 'good ol' days.'
Despite his huge stature and wealth of knowledge, he does not appear intimidating, as the panellists on last Saturday's Entertainment Review programme on Peace FM would attest to as perhaps the latest group of young people to engage him in a chat.
He even performed a piece of rap poetry he wrote long before any of them was born.
This is the man who is known by many as 'The Moses of African music.' Some of his students call him a 'Living library,' while others call him 'The Grandfather of African Music!'
In Ghana, Prof Nketia has been well acknowledged by academia, government and showbiz. In that respect, he has been honoured with several home grown awards such as Companion of the Order of Star of Ghana, Grand Medal of the Government of Ghana (Civil Division), and a DLitt (Honoris Causa) of the University of Ghana, Ghana Book Award, ECRAG Special Honour Award (1987), Ghana Gospel Music Special Award (2003), and ACRAG Flagstar Award (1993).
At the international level, various published sources including the Internet, proclaim Prof Nketia as winner of the Cowell Award of the African Music Society, ASCAP Deems Taylor Award for his book on the Music of Africa, IMC-UNESCO Music Prize for Distinguished Service to Music, Prince Claus 1997Award for Distinguished Service to Culture & Development, and in the year 2000 Distinguished Africanist Award of the African Studies Association of the USA for Life-long Devotion to African Studies.
He has served as Professor of Music at UCLA, University of Pittsburgh, and has lectured in many top universities in the US, Europe, Africa and Asia, including the University of Michigan, Harvard, Stanford, Indiana, City University of London, and the China Conservatory of Music.
Joseph Hanson Kwabena Nketia was born on June 22, 1921 at Mampong Asante. He received his first musical education, and eventually trained as a teacher at the Presbyterian Training College, Akropong Akwapim where he later taught and was appointed Acting Principal in 1952. At 23, a very young age to go abroad in those days, Kwabena, through a Ghanaian government scholarship, went to the University of London to study for a certificate of phonetics at the School of Oriental and African studies.
He went on (1949) to Birkeck College, University of London, and Trinity College of Music, London, to obtain his Bachelor of Arts degree.
In 1958 he came to the United States, attending Columbia University, Juliard School of Music, and Northwestern University to do courses in musicology and composition.
After a year in the United States, he returned to Ghana where he rapidly rose through the ranks at the University of Ghana, Legon - from Senior Research Fellow (1962), to Associate Professor, and finally a full professor in 1963.
Two years later, he was appointed Director of the Institute of African Studies.
Prof. Nketia is world-renowned as musicologist and composer. He is to African music what Bartok is to Western music. Of all the interpreters of African music and aesthetics, Nketia sets the pace.
His concept and interpretation of time and rhythmic patterns in Ghanaian and other African folk music were revolutionary, and became standard for researchers and scholars around the world.
For example, Nketia introduced the use of the easier-to-read 6/8 time signature in his compositions as an alternative to the use of duple (2/4) time with triplets used earlier by his mentor, Ephraim Amu.
Although this practice undermined Amu's theory of a constant basic rhythm (or pulse) in African music, and generated some debate, Nketia maintained that the constant use of triplets in a duple time signature was misleading.
Today, many scholars around the world have found Nketia's theory very useful in transcribing African music. Prof. Nketia's work to reconcile the melodic and rhythmic elements of folk music with contemporary music spurred a new kind of compositional technique for African musicians and academics, worldwide. Other pioneering work include the transcription of many Ghanaian folk songs in a manner virtually free from Western influences.
Kwabena Nketia studied with the Rev. Danso, who was a pupil of Ephraim Amu. It is, therefore, no surprise that his earliest choral works were deeply influenced by the pioneering work of Ephraim Amu.
Some of his well-known choral works include Adanse Kronkron, Morbro Asem, Monna N'Ase and Monkafo No. Other vocal works with piano accompaniment include Yaanom Montie, Onipa Dasani Nni Aye, Onipa Beyee Bi, Yiadom Heneba, Mekae Na Woantie, Maforo Pata Hunu, Obarima Nifahene and Asuo Meresen.
He also wrote extensively for Western orchestral instruments, like the flute, violin, cello, percussion and piano. But it is through Nketia's pace-setting works for traditional African instruments that his genius is acclaimed.
He wrote for a variety of combinations of modern and local African instruments. Works in this category include the Builsa Work Song (1960), Dagarti Work Song (1961), At the Cross Roads (1961), Owora (1961), Volta Fantasy (1961) and Contemplation (1961).
He was first African Director, Institute of African Studies, University of Ghana, Professor of Music, University of Ghana, Professor of Music at UCLA, Horatio Appleton Lamb Visiting Professor at Harvard University, Visiting Cornell Professor at Swarthmore College, Distinguished Hannah Professor of Integrative Studies at Michigan State University, East Lansing, Visiting Professor at the University of Brisbane in Australia, Visiting Professor at the China Conservatory of Music, Beijing, Andrew Mellon Professor of Music at the University of Pittsburgh, and Langston Hughes Professor at the University of Kansas, Lawrence.
He is the Chancellor, Akrofi-Christallor Institute of Theology, Mission and Culture, Akropong-Akuapem, a Foundation Fellow of the Ghana Academy of Arts & Sciences, Honorary Fellow of the Royal Anthropological Society of Great Britain, and Ireland, Honorary Member of the International Music Council (IMC-UNESCO), Honorary Fellow Of the Pennsylvania Chapter of Phi Beta Kappa, Honorary Member of the Pan-African Writers Association (PAWA), Member of the International Jury for the Proclamation by UNESCO of Masterpieces of Oral and Intangible Heritage of Humanity, and Board Member of the National Commission on Culture in Ghana.
His numerous publications, available in bookstores and libraries around the world, include: African Gods and Music, Drumming in Akan Communities, Possession Dances in African Societies, Traditional Music of the Ga people, The Role of Non-Western Music in General Education, The Contribution of African Culture to Christian Worship, Music, Dance and Drama: A Review of the Performing Arts of Ghana, Music in African Cultures: The Meaning and Significance of Traditional Music, History and the Organization of Music in West Africa, The Hocket Technique in African Music, Multi-part organization in the Music of the Gogo-of Tanzania, and Artistic Values in the African Music Composer.
Prof. J.H. Kwabena Nketia is currently the Director of the International Centre for African Music and Dance (ICAMD), based at the University of Ghana.