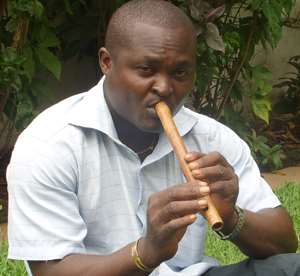 Dela Botri, Leader of Hewale Sounds
Amandzeba Nat Brew, Gyedu Blay Ambolley, alongside KSM, will on Friday, June 3 join Hewale Sounds at the Alliance Française in a performance that will mark the 15 th anniversary of the group.
Dancers from the Noyam African Dance Institute, Kusum Gboo Dance Ensemble, Ogya Band and slum poet Sir Black would equally be on stage for the historic concert that is set to attract musicians and music fans from Ghana and other neighbouring countries.
Led by flute magician Dela Botri, who formed the group in 1995, Hewale Sounds has over the past years been the toast of audiences throughout the city of Accra and beyond. They have persistently and consistently proved the power and capabilities of traditional African instruments.
With four albums to its credit, Hewale Sounds has sent traditional music to another level through a curious extension of traditional rhythms and multiple sounds while infusing them with infectious melodies and lyrics that reflect issues in traditional and contemporary Ghana.
The music of Hewale Sounds lies in a subtle approach to the appropriation of the elements of traditional music- indeed, it stands at the interface of tradition and modernity – and has the potential to sow the seeds of a full-blown innovative creation.
An apostle of traditional instruments, the friendship between Botri and his bamboo flute results in the expression of raw skill, talent and some kind of tenderness that seem to keep the audience at the edge of their seats. In any case, the audience always acknowledges the touch of a master flutist who carefully selects his notes and opens his heart for all to feel.
Formerly a resident group at the International Centre for African Music and Dance, University of Ghana, the group has performed to ecstatic audiences in Togo, Benin, Nigeria, Mali, Niger, Guinea, Mauritania, South Africa, Jordan, Norway, Finland and the United States of America.
A 2009 recipient of the Ghana Music Awards, the group has collaborated and shared stages with internationally-acclaimed musicians such as Stevie Wonder, Sharon Katz, Koo Nimo, Nana Danso Abiam, Rocky Dawuni, Prof. John Collins, late Prof. Willie Anku, Dr. Kwasi Ampene, Mamar Kassey, Alain Soler and Andre Jaume.
Hewale Sounds is a regular group in several diplomatic compounds in Accra where they mesmerize audiences with a rendition of various national anthems with local Ghanaian musical instruments, while jamming with foreign musicians with relative ease.
The concert is being sponsored by Tigo, Alliance Française and the French Embassy in Accra.
By John Owoo