Scotty McCreery wins American Idol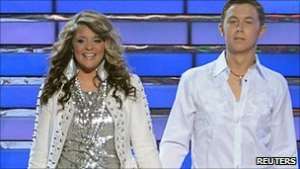 Scotty McCreery, 17, beat Lauren Alaina, 16, in the youngest finale battle in the show's history

Teenage country singer Scotty McCreery has been crowned this year's winner of American Idol.
The 17-year-old from Garner, North Carolina, beat fellow teen Lauren Alaina, who had been been considered the favourite to win the show.
McCreery, a high-school student who also works part-time at a local grocery store, won over audiences with his trademark deep voice.
He is the first country music winner since Carrie Underwood won in 2005.
McCreery is also the fourth consecutive male contestant to win the competition.
After being declared the winner, he said: "Never in my wildest dreams. I got to thank the Lord first. He got me here."
During the finale the teen sang with country singer Tim McGraw, as well as what will become his first single, I Love You This Big.
Vocal injury
Sixteen-year-old Alaina from Rossville, Georgia, had been the judges' favourite after Tuesday's final sing-off, despite a vocal cord injury which required medical treatment.
But McCreery's consistent performances won over the audience.
Television network Fox said 122 million votes were cast by the public by phone, text message and online.
The season was the first for new judges Jennifer Lopez and Aerosmith frontman Steven Tyler.
It is not yet known if they will return to the show next year.