2ND AFRICA GOSPEL MUSIC AWARDS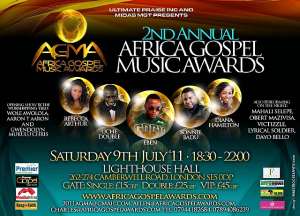 Nominations for the 2ND AFRICA GOSPEL MUSIC AWARDS CELEBRATION', which is scheduled to take place on the 9th of July 2011 at the Ultra Modern Lighthouse Hall, London have now been released.
We are again celebrating and awarding excellence in the gospel music industry of people of African and Africa in the Diaspora origin.
Performances for the night will be by some of the finest gospel artistes from Africa including Nigerian based gospel rock star, EBEN, South African based, Uche Agu, Nigerian based, Kenny K'ore and RoofTop MC's. Supported by UK's finest artistes including MOBO award winner Victizzle, Sonnie Badu, Mahali Selepe, Diana Hamilton, Aaron T Aaron, Rebecca and more. Event will be hosted by funny man; Simply Andy.
This year's sponsors committed to date include: VOX Africa TV, Faith TV, Voice of Africa Radio, Keep The Faith Magazine and MediaMind, Sponsorship packages and levels of participation are available by contacting us by email.
Voting will be opened on Friday, 20th May 2011 worldwide at www.africagospelawards.com
Tickets start from £15.00 each and £45.00 each (inclusive of banquet). Tickets are available at
NOMINATIONS
Best Song
• HALLELUYA-LARA GEORGE FT PAT KING
• ALITENDA –LISA MURAYAH
• SALUTI –DADDY OWEN
• SOMORE-KENNY K'ORE
• COVENANT- REBECCA FT UCHE
• MY LOVE – TOLUMIDE
• GEO GABRIEL - VICTORY
• AGIDIGBA-TIM GODFREY
• BOHYE - NO TRIBE
• ADONAI -SONNIE BADU
Best Music Video
• KWASA -GBOOF
• MERCY-KWESI OTENG
• CHARLES GRANVILLE - BY MY SIDE
• REBECCA ARTHUR - I NEED YOU MORE
• AGIDIGBA VIDEO BY TIM GODFREY AND THE X'TREME
• SALUTI – DADDY OWEN
• THE PRESENCE –JOE PRAIZE
Best Gospel Album
• BOHYE - NO TRIBE. GHANA
• TIMELESS ONE - ALEXANDER VICTOR. UK
• SYSTEM YA KAPUNGALA - DADDY OWEN. KENYA
• REBECCA MALOPE – UKUTHULA. SOUTH AFRICA
• HYMNZ UNLIMITED - NII OKAI. GHANA
• AWESOME GOD-AARON T. AARON-UK
• PULPIT KWA STREET-JULIANI-KENYA
• RACING UP – PAUL MWAI-KENYA
• WORSHIP IN HIS PRESENCE WITH BENJAMIN DUBE – SOUTH AFRICA
Event of the Year
• EVOLUTION 6 BY IMPACT PROJECT MINISTRIES. ACCRA. GHANA
• AFRICA WORSHIPS WITH SONNIE BADU. LONDON. UK
• HARVEST PRAISE 2011 WITH REV BENJAMIN DUBE, ACCRA, GHANA
• THE BIG CHURCH DAY OUT. UK
• GROOVE AWARDS. KENYA
• TRUE WORSHIPPERS "A NIGHT IN HIS PRESENCE" VIRGINIA,USA
• LAGOS EXPERIENCE. LAGOS, NIGERIA.
Overall Best Male Artiste
• DADDY OWEN- KENYA
• SONNIE BADU - UK
• BENJAMIN DUBE-SOUTH AFRICA
• JOE PRAIZE- NIGERIA
• UCHE AGU –SOUTH AFRICA
• CHARLES GRANVILLE-NIGERIA
• EBEN-NIGERIA
• FABRICE NZEYIMANA-BURUNDI
• AARON T. AARON-UK
• KABELO ERIC -BOTSWANA
Overall Best Female Artiste
• WINNIE MASHABA- SOUTH AFRICA
• DIANA HAMILTON-UK
• OHEMAA MERCY-GHANA
• LARA GEORGE-NIGERIA
• SINACH- NIGERIA
• EMMY KOSGEI-KENYA
• REBECCA –UK
• TOYIN MOTARA-NIGERIA
• CECILIA MARFO-GHANA
Best Gospel Group
• OBERT MAZIVISA & TRUMPET ECHOES. UK
• ROYAL PRIESTHOOD. GHANA
• TRIBE OF JUDAH CHOIR. USA
• NO TRIBE. GHANA
• TIM GODFREY AND XTREME. NIGERIA
• ALLEN AND DA NEW WAVE. UK
• JOYOUS CELEBRATION. SOUTH AFRICA
• DAVISON BAND. UK
• K-STONEZ . NIGERIA
Best Gospel TV Programme
• AFRIKA RISING. OHTV. UK
• PRAISETEK GOSPEL SHOW
• THE GLORY ENCORE SHOW. OLIVE TV.UK
• PRAISE TALK SHOW. FAITH TV UK.
• ONE VOICE – NTV
• ONE GOSPEL – SOUTH AFRICA
• X 2 D -NIGERIA
• SHINE ON –CHANEL O DSTV
Best Gospel Radio Programme
• HABARI AFRICA. PREMIER GOSPEL RADIO. UK
• P G BREAKFAST PREMIER GOSPEL RADIO. UK
• GOSPEL SUNDAY – MILELE FM, KENYA
• PRAIZE JAMS- KOOL FM NIGERIA
Best Gospel DJ/Presenter
• MUYIWA OLAREWAJU. PREMIER CHRISTIAN/GOSPEL RADIO. UK
• DJ ABBEY GEE. FREELANCE DJ. UK
• DJ GOSPORELLA . NIGERIA
• FIIFI FOLSON-SUNNY FM. GHANA
Best Contribution to Africa Gospel Music
• REBECCA MALOPE, SOUTH AFRICA
• EVANGELIST DAVID BRUNO (PPM BIRMINGHAM) UK
• PRAISETEK GOSPEL MUSIC AWARDS (PGMA)
• BNG INNOVATES. NIGERIA
• LINDLANI MKHEZI OF JOYOUS CELEBRATION. SOUTH AFRICA
• WATOTO CHILDREN'S CHOIR. UGANDA
• PREMIER GOSPEL RADIO. UK
• ADOM PRAIZE, ADOM FM GHANA
Discovery of the Year
• GEO GABRIEL
• TOLUMIDE - USA
• GBOOF (KWASA)-NIGERIA
• ROYAL PRIESTHOOD-GHANA
• CWASI OTENG –GHANA
• ATTA BOAFO'S- UK
• MOTARA-NIGERIA
• OUTCRY –KINGDOM OF SWAZILAND
• EMMANUELLA BAFOAH-MOLONEY-UK
*****Regional Awards Category******
Best Artiste/s (Europe)
• SONNIE BADU
• MASTER DON
• PAPA RICHIE
• LISA MURAYA
• REV OSEI KOFI
• REBECCA ARTHUR
• DIANA HAMILTON
• GWENDOLYNN MUKULU CHRIS
• AARON T AARON
• MUYIWA
Best Artiste/ (USA)
• DEE JONES (ELEVATED)
• KENNETH APPIAH
• COMFORT MANYAME
• K.STONEZ
• MICTUNES
• TOLUMIDE
• THE TRIBE OF JUDAH CHOIR
• ALBERT COLLINGWOODE WILLIAMS
Best Artiste (Southern Africa)
• BENJAMIN DUBE
• UCHE AGU
• KEKE PHOPHOLO
• SFISO NCWANE
• SECHABA
• SOLLY MAHLANGU
• SIPHO MAKHABANE
• WINNIE MASHABA
Best Artiste (East Africa)
• FABRICE NZEYIMANA
• ALICE KAMANDE
• EXODUS-UGANDA
• CHRISTINA SHUSHO
• BLESSED SISTERS RWANDA
• GEN. MANASSEH MATHIANG
• JOY NKUNDIMAN
• JULIANI
• EMMY KOSGEI
• MOSES "QQU" ODHIAMBO
• DADDY OWEN
• MARVELLOUS
Best Artiste (West Africa)
• NO TRIBE
• JOE PRAIZE
• CHARLES GRANVILLE
• TIM GODFREY
• LARA GEORGE
• GEO GABRIEL
• IBITAYO JEJE
• OHEMAA MERCY
• IYOBO VAN LIEROP
• CECELIA MARFO
Best Artiste (North Africa).(Central Africa)
NO NOMINATIONS