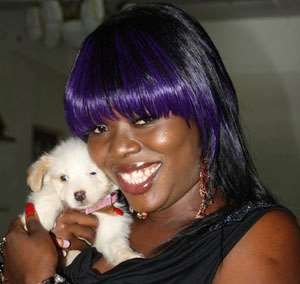 Delay and her disigner dog
It is gradually becoming difficult to understand why Delay, Ghana's hottest and erotic radio hostess, is spending money as if she has enough of it to actually burn.
She is reported to have recently spent close to a $1000 to insure her designer pet dog and spent another $500 just to get the dog shaved!!!
The dog, known as Biscuits, is part of the cast of an ongoing television series, 'Efia Schwarzenegger'.
NEWS-ONE reported months ago that the dog was a birthday gift from Ghana's Bundesliga star, Hans Adu Sarpei, http://www.dailyrecord.co.uk/football/world-cup-2010/news/2010/06/23/ghana-s-bundesliga-star-hans-adu-sarpei-ready-to-send-his-adopted-country-out-of-world-cup-86908-22353200/ to Delay when she turned 28 last year.
Delay's lawyers were on TV3 to deny the report and made interesting accusations against NEWS-ONE. They however did not send a single word in the form of a rejoinder to the paper.
'Delay has insured the dog. The policy covers health, theft and injury. A Nigerian producer has told her that he wanted to travel with the dog to shoot a movie and that was what prompted her to go for the insurance,' a source from Delay's Mataheko residence told NEWS-ONE.
When contacted, Delay was tight-lipped over the matter. She said it was true that the dog was recently taken to a beautician at Tema who gave it a designer shave.
Delay however fell short of revealing the amount she paid for the shaving.
'Unless you want to tell me my dog does not have rights to insurance or to go for a decent shave. Whatever I pay for, that is not a matter I intend to make public,' Delay commented.
She explained that once the dog was on TV, it deserved decent treatment.
Biscuits is a Shih Tzu breed Chinese imperial dog that feeds on biscuits, chicken and milk.