Africa Umoja To Rock National Theatre This Weekend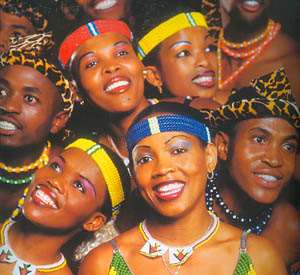 Africa Umoja group
For the second time in Ghana, South African cultural theatre group, Africa Umoja, will stage a 3-day historic cultural performance at the National Theatre in Accra from April 30 to May 2, 2011.
There will be two shows each day, the first at 4pm, and the second show at 8pm.
The group will dazzle cultural music and dance fans in Ghana with the power, beauty and diversity of South African indigenous rhythms.
The 3-day event, according to the organizer, is bound to be magical as the performers recount the history of South African music, placing emphasis on the various influences that contributed to the different kinds of music prevalent in South Africa in each era, till date.
Africa Umoja, 'The Spirit of Togetherness', is a two-hour explosion of song and dance performed by an energetic and creative crew. Umoja tells the tale of South Africa, its people and their song. See them perform in their beautifully designed costumes with each of them in their best of character.
Umoja-The Spirit of Togetherness, is produced by Charterhouse and sponsored by South African Airways, Easy Ride, the National Theatre, AWET HOTEL K9 Security Services, GTV and GhONE Entertainment TV.
By George Clifford Owusu