DAVE IS OUT OF STARS OF THE FUTURE SEASON 5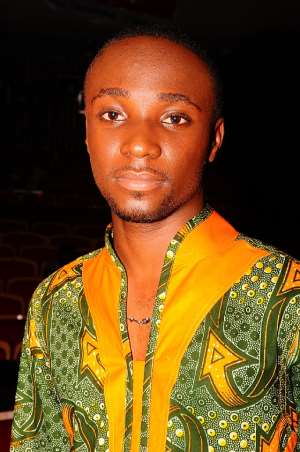 DAVE, the calm and unassuming contestants of the most prized music talent hunt competition on Ghanaian television Stars of the Future season five becomes the latest to be eliminated in the exciting series.
This comes after a rather impressive showing on the Gospel Music Night which saw performing 'Aseda', a composition by the award winning group No Tribe. On the night, he was fantastic and a spectacle to watch in spite of his lack of stage presence.
He came up for eviction at the last eviction night on Tuesday together with Kwame, a two time winner of the Golden Moment Award. Unfortunately, Dave had to say goodbye to the competition and losses out in the chase for the ultimate; a recording deal, saloon car and cash prize.
Abby and Noella emerged the joint winners of the Golden Moment Award. Kaki was the other nominee for the top performer award but failed to make to win the award for a record fourth time.
The performance series continues on Thursday at the National Theater. It promises to be a night on love and romance as audience will be threated to specially selected ballads.
Patrons are encouraged to come out in their numbers on Thursday night to support their favorite contestants and also vote to keep their favorites in the competition by texting their names to the MTN short code 1750.
Stars of the future season five is sponsored by MTN with support from Somovision LG, Close Up, Vodka Kick, Koala, Spa 216, GTP and shows on Television Sunday at 1:30PM on GTV and 3PM on e.TV. There is a repeat show at Mondays, 12.30PM on GTV.
The weekly eviction shows will air Tuesdays at 9PM on e.TV and 9:30PM on GTV. Those who miss the TV series can catch the radio series of SOF 5 on YFM every Monday at 7PM sharp. One can also follow their favorite delegate on facebook.com/starsofthefuture.