Ben Dube, Cecilia Shine @ Harvest Praise Concert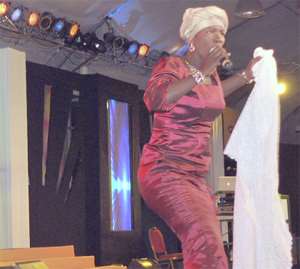 Cecilia Marfo performing live on stage
South African gospel singer and pastor, Benjamin Dube, on Good Friday thrilled Ghanaian gospel music fans with his spectacular stage performance at the Harvest Praise Concert organised by the Harvest Chapel International at the Accra International Conference Centre.
Many had heard songs of Benjamin Dube, who has been in the music ministry for years, but seeing him perform was a dream come true for them.
On stage, Ben never showed any sign of tiredness as he danced and sang. The audience could not help but join him as he sang.
The audience admired his performance, and those who were filled with the 'sweetness' of the rhythms of his songs could not help but dance to show appreciation.
When Daughters of Glorious Jesus took the stage, the atmosphere at the Dome instantaneously changed into a party scene.
The power they exhibited got the packed audience dancing and shaking the foundation of the Dome.
Cecilia Marfo also won the hearts of the audience with her stagecraft and dancing skills. Her style of performance that night influenced all the music fans present.
Gifted and talented, not only in singing but also dancing, Cecilia Marfo perfectly exhibited her creative skills.
She dazzled the audience with her vocal ability, which got the audience applauding. She made the audience move and groove to her songs; in fact, she kept the entire crowd on their feet throughout her performance.
By George Clifford Owusu