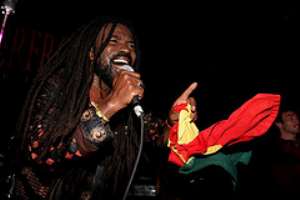 Ghana's international music star Rocky Dawuni has been nominated by the International Reggae and World Music Awards for Best Album and Best African Entertainer, to be held in Trinidad on May 28.
The Ghanaian Reggae Legend who has been referred by many as Africa's Bob Marley leveraged his popularity within and without of the Continent to champion social causes and inspire a generation of artists and fans alike. It therefore came as no surprise when under the auspices of UNICEF, the Ghanaian reggae artist Rocky Dawuni (left) joined the head of the European Commission delegation, Filiberto Ceriani Sebregondi, and UNICEF Representative Dr. Yasmin Ali Haque on a two-day visit to northern Ghana to help educate the public on Guinea Worm the past few yearsd .
Dawuni's eloquence as well as his successful melding of musical celebrity and social action has made him a spokesperson for various causes worldwide. Over the last few years, Rocky's music and electric live performances have attracted thousands to his concerts. Superstars such as Stevie Wonder and Peter Gabriel have joined him on stage at his shows to tremendous response.
Rocky's 5th studio album, "Hymns for the Rebel Soul" was pre-released through Whole Foods Market in the United States and was officially released on May 25, 2010 by Aquarian Records. Rock Paper Scissors, Giant Step and the Sanford Company have all gotten behind the title which has been charting heavily on CMJ. The new 11 song album was inspired and written over the course of his travels around the world particularly Israel, Finland, Jamaica, U.S. and Ghana in his quest to articulate and craft a record that reflected the common spiritual, political and social aspirations of ordinary folks around the world. With the songs written, the main tracking and recording took place in Los Angeles during the transformative period of the 2008 U.S. presidential election and concluded on inauguration day. Rocky sees this album as a musical exploration in global consciousness.
Video Game Giant EA (Electronic Arts) has licensed the first track off the album "Download the Revolution" from their FIFA Soccer 2010 video game which has sold millions of copies already. EA has also licensed "African Reggae Fever" for their FIFA World Cup 2010 video game which was released in May 2010. (Two tracks from his previous recording Book of Changes were also featured on EA's FIFA 2008 and Simms video games.) "African Soccer Fever" a remix of his "African Reggae Fever" song became one of the main songs of the FIFA World Cup 2010. Africa and the world officially have "African Soccer Fever!!"
In the US, Dawuni's progressive fusion of Reggae, Soul and traditional African sounds, have been making steady inroads in the entertainment industry. He can be seen/heard alongside Bono from U2 in the video and song remake of Bob Marley's "War /No more Trouble" for the highly successful "Playing for Change: Songs Around the World" album which was released by Concord Music in April 2009 and has sold over 300,000 copies. Rocky Dawuni is also featured with other global stars on "Tribute to a Reggae Legend" with his genre bending rendition of "Sun is Shining" by Bob Marley was released by Putumayo Records in July!
Rocky has received extensive airplay on flagship stations like KCRW as well as prominent exposure on hit TV shows like Weeds, ER and Dexter. Rocky recently signed a co-publishing and administration deal with Lionsgate Music which should insure even more exposure for his music worldwide through film, television and commercials. His voice can also be heard on the theme song for "The Goode Family" on primetime ABC Television. Rocky's rendition of John Lennon's "Well Well Well" was featured on the highly successful Deluxe edition of Instant Karma: Amnesty International Campaign to Save Darfur. The Warner Brothers release featured global stars including Black Eyed Peas, Jack Johnson, Christina Aguillera, U2 and more.
Dawuni is creator and headliner of his annual music festival "Rocky Dawuni Independence Splash" held every March 6th in his native Ghana which is produced by his NGO Africa Live! The annual event in Ghana attracts upwards of 30,000 people every year and has become the rallying point for his extensive humanitarian and advocacy work on clean water, HIV AIDS, poverty eradication and girl child education issues.
Dawuni has made several extensive trips throughout Northern Ghana in conjunction with UNICEF & the Carter Center, helping to shed light on the acute water / sanitation problems and helping to spur practical and sustainable solutions reflective of his ongoing quest to use music as a tool for social development. Rocky has served as a personality for Product (RED) led by U2's front man Bono and Bobby Shriver supporting The Global Fund's initiatives on HIV/ AIDs in Africa. Rocky has big plans for the 2011 event which will take place at the Tamale Sports Stadium with special guests on March 19, 2011!!
The Ghanaian star is scheduled to perform alongside the legendary Stevie Wonder with special guest Jaenelle Monae , backed by Ricky Minor at the Hollywood Bowl in Los Angeles on July 24th, 2011.
Rocky is also the brainchild of Los Angeles' world renown Thursday night club, Afro Funke', which has been the premier African based night in Los Angeles for over 7 years. Afro Funke' is frequented by an extremely diverse clientele of all ethnicities and ages who are drawn to the incredible music and ambiance of the night. His presence there also draws a cross section of celebrities who enjoy soaking in the vibes with him including Prince, India.Arie, Stevie Wonder, Reverend Michael Beckwith (The Secret) and many more.
2010 began with Rocky headlining the "Journey of the Spirit Festival" (Sponsored by the Vatican) in Rome, Italy which was an unprecedented success! Rocky then headed to Ghana to launch "Hymns for the Rebel Soul" in his homeland with a radio and press tour throughout the regions and a huge album launch at Citizen Kofi in late March.
Rocky followed that up with an official "Hymns" listening party at Afro Funke' in late May with a full release party with live show in at The Waterfront Theatre in Los Angeles in late June. Rocky spent the summer of 2010 on a European festival tour with shows in Germany, Austria, Finland, France, the UK and beyond.
Rocky returned to the US in early September 2010 and was a guest on OprahRadio.com, he then performed live at the Levitt Pavilion in Los Angeles' Macarthur Park for thousands and followed that up with a live performance on international tastemaker radio station KCRW 89.9FM with Jason Bentley on "Morning Becomes Eclectic" on Wed Sept 8.
Rocky was recently invited to do a special live performance at the 18,000 strong "We Day" event in Toronto, Canada alongside Somalian superstar K'Naan at the Air Canada Center on September 30, 2010 for Free The Children. He next appeared at the brand new Hawaii Spirit Music Festival on the north shore of Oahu and then at the Freedom Awards with international super star, Jason Mraz in Los Angeles followed by the huge LA YOGA event with Rocky Dawuni headlining and other guests including the Luminaries!
Rocky Dawuni, has been riding on the wave of his acclaimed new album "Hymns for the Rebel Soul" released last year while traveling and performing throughout the world. The album was recently nominated for a prestigious NAACP Image Award in the United States for "Outstanding World Music Album" alongside luminaries Herbie Hancock, Bobby McFerrin, Angelique Kidjo and Michael Franti.
Hymns was also just nominated by the International Reggae and World Music Awards (to be held in Trinidad May 28, 2011) for "Best Music Album" and Rocky himself is nominated for "Best African Artist." Rocky "African Reggae Fever" from Hymns was just nominated for "Best Reggae Song" for the upcoming Ghana Music Awards! This spring and summer will see Rocky back touring in the United States and Europe including a very excited scheduled appearance with the legendary Stevie Wonder at the prestigious Hollywood Bowl on July 24, 2011 as part of KCRW's "Global Soul" event.
The long list of achievements thus suggests that Ghana's Tourism Ambassador and one time NAACP Image Award Nominee Rocky Dawuni has definitely carved a niche for himself.
The Ghanaian star is scheduled to perform alongside the legendary Stevie Wonder with special guest Jaenelle Monae, backed by Ricky Minor at the Hollywood Bowl in Los Angeles on July 24th, 2011.
Once again, Ghana is going to be heard all over as Rocky puts her on the world music map with two nominations under his sleeves.
VOTE for Rocky Dawuni at www.irawma.com.