Luv gives meaning to Easter in the Garden City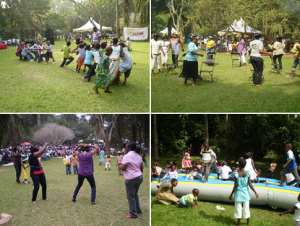 Maiden Luv Fm Family Party in the Park

Retreats and conventions are being organized by the Christian community in Kumasi to commemorate the death and resurrection of Christ.
Luv Biz Report surveillance on the market indicates that prices of foodstuffs, clothing and household commodities remained stable ahead of the festivities, though traders say they are recording low patronage of goods and services.
There is heavy vehicular and human traffic in the city centre, as window shopping seems to be high on the agenda of many within the Central Business District of Adum.
Easter is a season of love and the Super Station, Luv 99.5 Fm is giving residents reason to enjoy the season. To protect life on the road, the radio station has been driving home its road safety campaign in the past weeks to instill sanity this Easter as people travel to visit friends and family.
On Good Friday, Luv Fm is partnering Shirley Frimpong-Manso's Sparrow Production to premier 'Adams Apples' in the Garden City. The ten chapter movie is filled with love and humour and it is expected to excite holiday-makers in Kumasi.
But the biggest event in the city this season is the Easter Family Party in the Park. Following the success of the maiden edition of the Luv Fm Family Party in the Park on New Year's Day, the station is responding to popular requests by families to throw yet another party for families to dance to live band music, drink and share in the joy of the season.
The KNUST Botanic Gardens will host various family units to socialize and network in the family reunion event.
If you are still contemplating where to spend your Easter, make your way to the Garden City for a very accommodating treat.
Several other programmes have also been lined up to commemorate the occasion in Kumasi, including musical concerts, pool parties, picnics and movie shows.
Story by Kofi Adu Domfeh/Luv Fm/Ghana